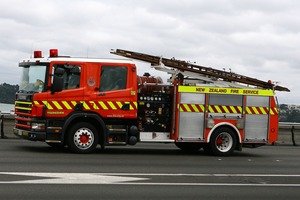 A 9-year-old boy is being spoken to by police Youth Aid after two fires in quick succession in Bay of Islands businesses.
The first fire started in a clothing rack at The Warehouse in Waipapa about 1.45pm on Tuesday.
Sergeant Peter Masters, of Paihia police, said damage was kept to a minimum by a customer's quick response and the store's good fire procedures. The store was evacuated and no one was hurt.
The Kerikeri Fire Brigade was called out but the fire was out before they arrived. The store was heavily smoke-logged. Another customer was able to provide police with part of a car registration number.
Kerikeri firefighters were on their way back to the station when, just 45 minutes after the first call, they were called out again - this time to a fire at the Palm Tree Cafe on the corner of State Highway 10 and Puketona Rd.
Mr Masters said the owner went to investigate when the smoke alarm sounded at 2.30pm and discovered a toilet roll holder in one of the men's cubicles was on fire.
She evacuated her customers and ran to the kitchen to get a fire extinguisher.
"She was about to head into the fire when a good Samaritan grabbed the extinguisher off her, saying 'that's my job', and put out the fire."
Firefighters and police arrived quickly and spoke to a 9-year-old boy, who has been referred to police Youth Aid. CYF is also assisting.
Police were confident the boy was responsible for both blazes. The boy's caregiver, who was oblivious to his actions, was shocked and cooperative, Mr Masters said.
Cafe owner Marian Ralph said it was an off-duty fireman, who had stopped in for a coffee, who intervened and put the blaze out.
For more articles from this region, go to Northern Advocate