Business owners from area hit several times recognise repeat offender on security footage.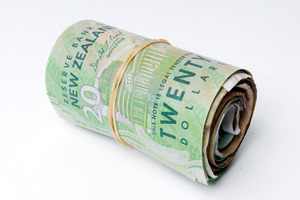 Fake $100 notes are circulating in Auckland, with one group of businesses being targeted repeatedly.
Several Otara businesses have received the counterfeit notes with one man recognised by several retailers as someone using the fake money.
Bhajnam Kaur, 31, received one at her Chapel Downs dairy on Tuesday. It wasn't the first time and when she spoke to neighbouring businesses they all had similar stories.
One note was a $20 which was difficult to distinguish from the real thing.
"I went and showed other people in our block, other dairies, and one guy showed me the $20 note. It was actually quite sophisticated. It's got the plastic in it too [but] just doesn't have the hologram - it looks really real."
When they studied footage from the store security cameras they identified the man who handed over the fake $100 - and their neighbours recognised him also.
The shop owner who also received $100 knew at once who it was.
She contacted police about the counterfeit $100 and was asked to drop it off, along with the footage of the suspect.
Ms Kaur's family have operated the dairy since 1997 and have seen an increase in the amount of counterfeit notes and shoplifting. She told the Herald sometimes taking action yourself was more effective than waiting for police.
"Now with the presence of [security] cameras people are more aware. At one stage we got fed up with it so printed pictures of people on the outside window with a sign saying 'Do you know these people?'."
The naming and shaming would usually work, with friends and family coming in to pay for whatever goods had been taken.
She would consider putting the photo of the man and his fake $100 up to get a response.
Anyone convicted of making or using counterfeit money can be fined up to $100,000 or jailed for up to three years.


How to spot fake money
• Genuine notes are made of polymer, a plastic, which has a smoother, shinier feel.
• Each note should have two transparent windows. The oval window includes the value of the note.
• If a note is held up to the light you should be able to see a shadow image of the Queen.
Source: Reserve Bank