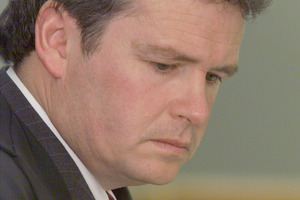 The legal fraternity has been "shattered" by the sudden death of one of the country's most senior judges.
Justice Robert Chambers sat on the Supreme Court and died peacefully in his sleep last night at his home in Wellington aged 59.
A good friend - Auckland Crown Solicitor Simon Moore QC - described Justice Chambers as "an extraordinary talent"who had so much more to give.
"His strengths were his ability to connect to people using his humour, his charm and his gregarious nature ... He leaves the legal profession, quite frankly, shattered."
Among others who paid tribute to Justice Chambers was his friend and colleague Chief Justice Dame Sian Elias.
"This is an enormous loss to the judiciary, and devastating blow to his family, especially his wife Deb," she said referring to Justice Chambers' wife Deborah Hollings QC.
"Justice Chambers had a career in the law of great distinction before he came to the bench, where he showed himself a jurist of great ability, diligence, and humanity."
Justice Minister Judith Collins said Justice Chambers was renowned across the profession."
"His sudden death at such a young age is a significant loss to the legal community ... I will always remember Justice Chambers for his humanity, terrific wit and way with words."
Attorney-General Christopher Finlayson has also expressed his sorrow.
"He made a great contribution, and had only begun what was expected to be a long tenure on the Supreme Court."
Justice Chambers graduated from the University of Auckland with a Bachelor of Laws with Honours in 1975, and headed to Oxford University in the UK where he gained a doctorate just three years later.
He practiced as a barrister in 1981 and was appointed Queen's Counsel in 1992.
Justice Chambers was appointed a Judge of the High Court in 1999 and a Judge of the Court of Appeal in 2004. He was appointed to the Supreme Court in December, 2011.
- APNZ