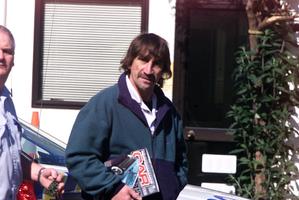 The father of a man killed by a notorious drink-driver says he fears for the safety of the community where the recidivist offender will live once he is released from prison in less than two weeks.
The Parole Board today set release conditions for Gavin Hawthorn, 50, who is due to be released from Rimutaka Prison on June 4 after serving a 10-year sentence for manslaughter.
The conditions include that he is not to enter Wairarapa, where his offending took place, without the prior written approval of his probation officer.
He is also banned from driving or owning a vehicle, or possessing or consuming alcohol or drugs.
The conditions will be imposed for six months after his release, but cannot legally be imposed any longer.
Hawthorn's offences have claimed four lives in two separate crashes, including that of Lance Fryer, who was killed in a high-speed crash in Greytown in June 2003.
Mr Fryer's father, Gary Fryer, said he was pleased Hawthorn would not be allowed behind the wheel in Wairarapa.
"But unfortunately some other poor buggers have got to live with it, don't they ... I feel sorry for the people where he's going to, if things don't go to plan."
Mr Fryer laughed at the condition banning Hawthorn from drinking alcohol or getting behind the wheel of a car.
"You take it with a pinch of salt," he said.
"He don't give a sh** about anybody else ... He will do what he wants to do with disregard to anybody else ... and if you're in his way, well that's it, isn't it."
Hawthorn smiled and embraced a support person at the end of his hearing before the Parole Board at Rimutaka Prison today.
Dressed in a grey tracksuit, with his long hair pulled into a knot away from his scarred face, he let his lawyer speak for him unless addressed by the board directly.
When asked about the decision not to admit him into a prison programme, Hawthorn said: "I thought well bugger yous. That's it, I'm doing my time anyway."
Hawthorn refused rehabilitation programmes throughout his sentence.
The board imposed eight release conditions, but decided against GPS monitoring of Hawthorn after his lawyer, Judith Fyfe, argued it was disproportionate and must only be imposed to address a specific risk.
"The biggest risk for Mr Hawthorn is drinking and driving. GPS is never going to have an effect on limiting that."
Board member Bryan McMurray said the case for GPS monitoring had not been properly made and it would not be imposed.
The Parole Board was told in March that Hawthorn wanted to live with his partner. The board adjourned its hearing until today because of concerns over the relationship and the suitability of his address.
His release conditions include that he must live where directed by his probation officer, and must not contact his victims' families.
He must also see a psychologist and undertake any treatments they recommend.
Hawthorn has a string of convictions for driving-related offences dating back to 1979, including 11 for drink-driving, 10 for driving while disqualified, three for dangerous driving and one for careless driving.
In 2004, Hawthorn was sentenced to 10 years' prison with a minimum non-parole period of six years for the manslaughter of Mr Fryer.
Hawthorn's car reached speeds of up to 167km/h shortly before another car pulled out in front and Hawthorn lost control. The car slammed into a power pole, killing Mr Fryer.
The crash was less than 1km from the scene of his first fatal crash in 1989. The then 26-year-old crashed into an oncoming vehicle, killing his passengers Peter Gay and John Kaukau, and injuring the occupants of the other car.
One of the injured occupants, Bob Stevens, later died of a blood clot after surgery.
Hawthorn has been denied parole on three occasions, the last in 2011.
Hawthorn's history
* 11 drink-drive convictions
* 2 fatal crashes
* 4 people killed
- APNZ