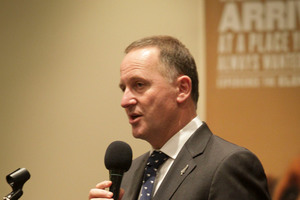 Prime Minister John Key has expressed his support for a multi-million-dollar irrigation scheme in the Hawke's Bay.
On a visit to what he described as the "rural heartland", Mr Key was in Dannevirke yesterday backing a major water storage project and oil exploration.
"The Government supports irrigation because of its potential for significant economic advantages and I'm hopeful the Ruataniwha water storage project in Hawke's Bay will go ahead," he said.
"With $80 million set aside in the Budget for irrigation and water schemes nationally, we are looking at how we can drive the economy forward and irrigation is one of the major game players. Research tells us that 90 per cent of our water - rain - goes to the sea. In Canterbury we know we can generate $1 billion more in GDP (gross domestic product) by harnessing water and using it effectively.
"It's a game changer and one of the fundamental things we can do to lift economic growth.
"The big competitive advantage New Zealand has over Australia [not withstanding a drought] is rainfall and it's one of the reasons the National Government is backing irrigation schemes."
Faced with anti-oil exploration protesters on his arrival at The Hub in Dannevirke yesterday, Mr Key told the Dannevirke News, oil exploration in the district would create jobs, lift incomes and lower the unemployment rate.
"The Government's job is to make sure there's balance between the economy and and a safe environment," he said.
"Of the 18 [sedimentary] basins in New Zealand, only one is tapped and that's in Taranaki and if you look at its economy, there are high levels of growth. Fracking is safe and we should say yes to oil exploration, but make sure it's done to a high standard."
Mr Key visited the Kiwi Sock Company in Norsewood and spoke with staff before travelling to Dannevirke for a meet and greet with 180 members of the Chamber of Commerce.
He also visited Metalform and Scanpower's Oringi Cold Stores, where the last Prime Minister to visit Dannevirke, the late Sir Robert Muldoon, opened the now defunct freezing works in 1981.
"The common factor in two of the businesses today, the Kiwi Sock Company and Oringi Cold Stores, is Scanpower," Mr Key said. "I think it shows the answers [to growth] aren't with central Government, but are here in this community."
And just to help the Government balance its books, local businessman, Bill Taylor, presented Mr Key with a Big Wednesday ticket.
"Just to help him balance the books by 2015," Mr Taylor, the owner of Blockbuster Video where a $14.1 million Big Wednesday ticket was sold recently, said.
"It's great to have a Prime Minister visit because it shows he's recognising the importance of small-town New Zealand."
For more articles from this region, go to Hawkes Bay Today