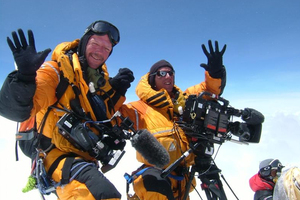 Lake Hawea climber Dean Staples' hold on the record for the most ascents of Mt Everest by a New Zealander is expected to last just two days, before Queenstown climber Mark Woodward matches the feat.
Mr Staples, 49, reached the summit of the world's highest peak for the ninth time yesterday.
He was lead guide for an expedition run by Wanaka-based company Adventure Consultants.
A New Zealand Alpine Club spokesman said the achievement meant Mr Staples had almost certainly climbed Everest more times than any other New Zealander.
However, Mr Woodward, 49, is hot on Mr Staples' heels. He is guiding for a separate Everest expedition run by Himalayan Experience - a New Zealand-owned company based in France - which is expected to summit tomorrow. If successful, it will be Mr Woodward's ninth ascent also.
His and Mr Staples' milestones come just days before the 60th anniversary of the first ascent of Mt Everest, by Sir Edmund Hillary, on May 29, 1953.
Mr Staples first reached the summit of Everest in 2004, and was the first New Zealander to climb it from both the north and south sides.
Mr Woodward's wife Lorraine said she was fairly certain her husband had also summited Everest for the first time in 2004, and several of his ascents had been completed with Mr Staples, who had also worked for Himalayan Experience before becoming an Adventure Consultants guide.
The race to complete the record-breaking climbs was now "an annual thing'' for the pair, who shared the glory of being first to the top, she said.
The other New Zealanders among the Adventure Consultants group which successfully reached the summit yesterday were Dunedin mountaineer and video-game designer Dean "Rocket" Hall, 32, and Mr Staples' partner and assistant guide Lydia Bradey, 51, who was the first woman to climb Everest without bottled oxygen in 1988. This was her third ascent.
Another Adventure Consultants guide, Mike Roberts of Wanaka, summited Everest for his seventh time in a separate private expedition on Sunday. While his client had turned back because of severe foot pain, Mr Roberts continued to the summit with Tendi Sherpa. The pair then summited neighbouring Lhotse - the fourth highest peak in the world - yesterday, without dropping back to base camp.
Mr Roberts had aimed to complete the double summit within 24 hours but was delayed after assisting with an attempted rescue on Lhotse. It was instead completed within 48 hours and is believed to be another first for a New Zealander.
US climber Dave Hahn holds the record for the most Everest ascents for a non-Sherpa climber, after successfully reaching the summit for the 14th time in 2012. It is understood he will be making his 15th bid this year.
The overall world record for the most successful Everest climbs is 21, according to the Guinness World Records website, held by Nepalese Sherpa Apa, nicknamed "Super Sherpa", who reached the mountain's summit most recently in May 2011.
The Adventure Consultants Everest group was expected to descend as far as Everest Camp 3 last night.