Couple swindled relatives of almost $100k using hoax billion-dollar Dubai contract.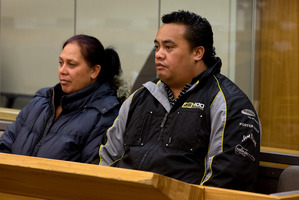 A couple have been found guilty of an elaborate scam featuring fake emails from billionaire Graeme Hart, promises of million-dollar returns, trips to Paris and gift-bags of gold.
Paraone Tamihana and Roseanne Randell were each found guilty of 20 charges of obtaining by deception by a jury at Manukau District Court yesterday.
The two-week trial heard the pair scammed nearly $100,000 in money and services in a four-month period in 2010.
They told family members and other victims that Tamihana had won a billion-dollar contract with a Dubai-based company to host wealthy clients in New Zealand.
They were then scammed into paying tens of thousands of dollars in "administration fees" to unlock million-dollar returns proposed in business deals sent from fake email accounts.
Police computer forensics showed the email banners were created at another victim's house at the time Tamihana and Randell were staying there.
Tamihana claimed he had secured a highly confidential $5.5 billion contract with Jumeirah Group, and promised to fly Jennis Lawrence, Randell's aunt, her former husband Stuart Lawrence and their adult children to the couple's luxury wedding in Dubai.
The Lawrences agreed to work for Tamihana, with annual salaries of $800,000 and around $300,000 respectively, and benefits including homes, cars and overseas travel.
They both separately housed Tamihana and Randell after the pair moved to Auckland. Tamihana did not display signs of wealth, they said, and drove a rundown diesel Isuzu, explaining the Dubai deal needed to be kept secret.
However, the couple "groomed" their victims into believing in their newfound wealth by organising lavish events, and sending fake itineraries which confirmed arrangements.
But the scam began to unravel when Tamihana planned a launch party for his business The House of Ra, which was to be held on a $110 million superyacht he had apparently bought.
The launch was to feature celebrity performances with guests given gift bags holding gold bars.
Ms Randell asked Alan Moore, who she had worked with, to skipper the superyacht for Tamihana.
Speaking after yesterday's guilty verdicts, Mr Moore, 71, said his doubts were quickly confirmed when he was told his services weren't needed a short time after asking for money to be put up against costs.
Tamihana had said the yacht was in the Virgin Islands, but satellite tracking revealed it was in the Mediterranean. Mr Moore contacted media, which led to a police investigation.
"[Tamihana] kept saying that he wanted to stay under the radar ... and yet here he was going to have this huge party.
"And there's no way you would have missed an 83m vessel," Mr Moore said.
Judge Charles Blackie remanded Tamihana and Randell, who both denied the charges, in custody until sentencing next month.
The scam
* 20 charges of obtaining by deception.
* Nearly $100,000 in money and services scammed.
* Family members targeted.