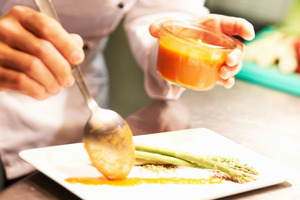 Restaurant owners found to have wrongfully sacked a chef they suspected was stoned at work have been left "disillusioned" by the Employment Relations Authority process.
Head chef Carl Tierney, 37, denied being on drink or drugs during a shift at the Suntrap Lobster Inn in the coastal tourist town of Kaikoura.
It was alleged that while his bosses, Julie and Neil Pablecheque were out of town, he showed up for his April 13, 2012 shift either stoned or intoxicated.
One kitchen co-worker said it looked "like he hadn't been to sleep for three days", and he was spaced out and mean to staff.
The next day, Mr Tierney said he slept through his alarm and missed his early shift.
During a meeting with the Pablecheques the following week, Mr Tierney told them: "I don't drink eight hours before a shift and I don't do drugs."
He offered to take a drug test and provided a urine sample, but before the results came back negative he was sacked for serious misconduct.
Now, the Employment Relations Authority (ERA) has ruled that Mr Tierney was unjustifiably dismissed because the Pablecheques breached minimum standards of procedural fairness. He has been awarded $6000 in compensation.
"Despite Mr and Mrs Pablecheque's insistence at the investigation meeting that intoxication, with its implication of drunkenness, was relied on it is clear that at the time of deciding to dismiss, Mr and Mrs Pablecheque considered Mr Tierney to have been affected by drug use rather than drunk or hung over," said ERA member Christine Hickey.
Other claims that he had stolen a soft drink from the Lobster Inn's stores and had acted dangerously on the night were not proven.
Today, Mrs Pablecheque told APNZ she was "disillusioned" at the outcome of her first experience with the ERA in 15 years as an employer.
"It's the only way I can describe it," she said.
"He (Tierney) has just blatantly denied it, and it's been judged in his favour.
"We still don't know why he acted the way he did on the night in question."
She admitted that if a similar scenario arose again, she would do things differently, but they were acting on advice and in best faith.
"We have other staff to consider. We were losing staff because of his actions, so you're caught between a rock and a hard place aren't you."
Mr Tierney, who is now working as a commis chef at Addington Events Centre in Christchurch, was glad that the ERA has cleared his name.
He spoke of his "disappointment" at being accused of taking drugs on the job.
"It's been a long time coming to a resolution, so it's good to come to an end," he said.
"They said I'd been taking drugs, which I didn't. I took a drugs test, and the employer dismissed me before the results came back.
"They took advice saying they should dismiss me before drug results came in, which was obviously the wrong decision."
Mr Tierney says he had never taken drugs, and put his actions that night down to "just being lazy" or "having a slow night".
- APNZ