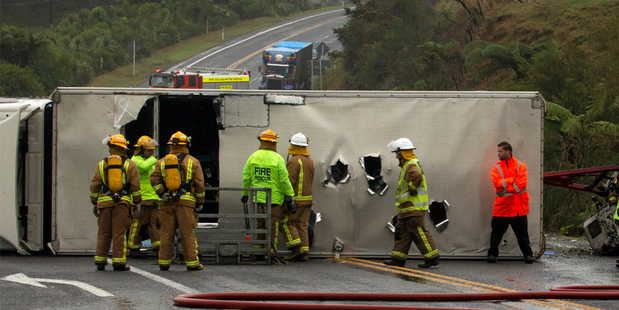 A police campaign to reduce the number of people killed in truck accidents was only a few hours old yesterday when a "shocking" head-on collision killed one log-truck driver and left another seriously injured.
The crash near Tolaga Bay closed Tauwhareparae Rd for hours and came as police on both sides of the Tasman promised to target the heavy vehicle road transport sector for the next month on speed, fatigue and vehicle compliance.
But police bosses also want the message to get through to other motorists. A breakdown of fatal truck crashes reveals 76 per cent of people who die are not truck drivers.
"This statistic reflects the fact that in a collision with a heavy vehicle there is a much higher probability of death or serious injury than in a collision involving only light vehicles," said Superintendent Carey Griffiths, the road policing national manager.
Operation Austrans, which runs until June 16, urges all road users to take responsibility because the "risks are too great and the costs are just too high", he said.
"We need road users to become much more aware of the risks involved in sharing the road with heavy vehicles, especially around stopping times and distances. It is very simple physics to understand the much greater time and distance required for these vehicles to stop if something goes wrong."
Jon White, the chief executive of the Australia New Zealand Policing Advisory Agency, which serves police commissioners throughout Australasia, said while heavy vehicle drivers contributed to about 40 per cent of crashes they were involved with, the risk of death or serious injury was higher.
"Heavy vehicles can weigh up to 65 tonnes and when they collide with another smaller vehicle, such as a car or motorbike, the results can be catastrophic."
As well as the focus on heavy vehicles, police say all drivers need to take care.
"Abrupt lane changes, tailgating, speeding and unsafe overtaking around heavy vehicles have a higher chance of tragic consequences because of their large mass and weight," Mr White said.
A Road Transport Forum spokesman said most fatal accidents between a heavy vehicle and another vehicle were caused by the smaller vehicle. "The industry itself has worked hard over the last decade or so to improve its safety performance. Since the mid-1990s fatal accidents involving trucks are a third of the level they were in 1995 and injury accidents have halved, so there has been a dramatic improvement."
The spokesman said a common complaint from truck drivers was motorists following too close or attempting risky manoeuvres - to such an extent some companies had installed cameras in their cabs.
"Some of the sights you see ... are just hair raising."
The survivor of yesterday's crash suffered serious, multiple injuries, said St John team manager Shane Clapperton.
Gisborne fire senior station officer John Haggland said it was a "shocking scene".
"The driver who died was very badly injured. The whole side of the cab of his truck was destroyed in the collision," he said.
Mr Haggland said the man who died was driving an empty truck, while the other truck had a full load of logs. "We believe he would have died instantly, his injuries were so severe."