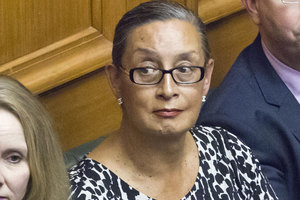 Former Carterton mayor Georgina Beyer has stepped down from the Wellington mayoralty campaign to focus on her health.
Ms Beyer, 55, was diagnosed with chronic kidney failure just days before she was to announce her plans to stand for Wellington mayor.
She underwent surgery almost two weeks ago and is back at home recovering.
"My operation has gone well and I've just got this week before I have all the dressings and things taken off.
"I've had a catheter put into my stomach for peritoneal dialysis which is the form of dialysis I'm going to be having and now I'm just waiting for that to heal."
She said she would be starting dialysis in one to two weeks' time, which will involve changing a bag of solution and a draining bag four times a day, which will take half an hour each time.
"I will be doing that kind of dialysis until I get a kidney transplant - either that, or for the rest of my life."
Ms Beyer, the world's first transsexual Member of Parliament, said the treatment differed to that of All Black great Jonah Lomu's dialysis, which involved plugging into a machine three times a week, for five hours a time.
"I took the form I preferred because I don't have to plug into a machine. I didn't want anything that meant me plugging into the wall," she said.
She is eligible for a kidney transplant but will have to go on to a waiting list. "My condition is chronic enough for me to be meeting the criteria to do that," she said.
"There are approximately 500-odd people in New Zealand on the waiting list and New Zealanders are only achieving 70 to 120 operations a year, so it can be quite a lengthy time, you can be waiting on a waiting list for years, some people are on it for five years or seven years."
She also has the option of a familial donation, where people she knows can offer a kidney.
Ms Beyer was disappointed not to be running for this year's election.
"I was going to throw my hat in the ring for mayoralty and I was going to throw my hat in the ring for council but I just don't think it would be a good thing.
"I've got quite an adjustment to make with this kidney problem. I'll get myself healthy enough to get back into some kind of normality first."
-APN