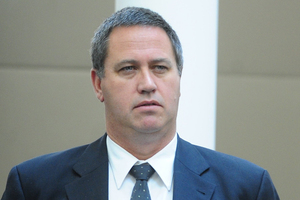 Convicted fraudster Michael Swann's bid for parole has been delayed by a supporter who threatened the Parole Board in an "extraordinary and inappropriate" letter, the board says.
The board met last week to consider whether Swann should be released from prison after serving four years of his sentence for defrauding the Otago District Health Board of almost $17 million.
But in its decision, released today, the board said it must defer a decision on his release after "an extraordinary turn of events" involving an unnamed supporter, who is also Swann's parole sponsor.
Board convenor Judge Michael Crosbie said the supporter, who was present for Swann's parole hearing last Tuesday, had written to the board since the hearing.
The letter contained "a threat to take and fund judicial review proceedings if Mr Swann does not receive an outcome favourable to him".
Judge Crosbie said it would be wrong to ignore the letter.
"It is both extraordinary and inappropriate for a prisoner or supporter to write a letter ... pending a decision," he said.
"Without going into the contents of the letter, significant aspects of which are erroneous, it is the view of this panel that to proceed with a decision in relation to Mr Swann may well be seen to be responding to a threat."
Judge Crosbie said Swann had perpetrated a fraud involving "a serious and cynical breach of trust".
However, the supporter's letter had objected to the board conducting any analysis of Swann's risk.
"That objection, together with [the supporter's] relatively skewed view of the parole hearing and parole process, is something that the board needs to consider for the purpose of assessing the suitability of the release proposal."
Judge Crosbie said the board had no option but to defer Swann's parole hearing until next month, when he could appear before an entirely different Parole Board panel.
Swann defrauded the DHB of $16,902,000 over six years while he worked there as an IT specialist. He spent almost $11.6 million on boats, flash cars and properties - buying some with suitcases of cash.
He was sentenced to nine years and six months imprisonment in March 2009.
- APNZ