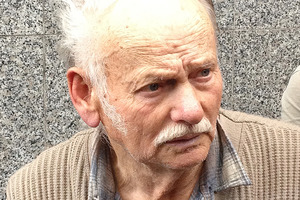 A man who was arrested before he could throw horse manure at the Prince of Wales and Duchess of Cornwall says he was protesting because the royals did not ask permission to spend New Zealanders' money on a visit.
Sam Bracanov, 77, was today found guilty in the Auckland District Court of preparing to commit a crime against Prince Charles and Camilla during their visit in November.
Yugoslavia-born Bracanov said the $200 fine handed down by Judge Anne Kiernan would not deter him from protesting against royal tours to New Zealand in the future.
"It's wrong to take something without our permission. He [Prince Charles] does," Bracanov told the court.
"That cost a bit of money to bring him here. Did he ask? No."
The visit as part of the Queen's Diamond Jubilee cost New Zealand taxpayers $776,000, according to Department of Internal Affairs figures.
Bracanov pleaded not guilty to the charge against him but after hearing the evidence of two police officers, Judge Kiernan found him guilty.
In his interview with police after being arrested, Bracanov said he was doing his "job", which was hitting "Charlie and his wife ... with bucket of s***".
"I would have hit them if I had the opportunity. You stop me," he told the interviewing police officer.
Bracanov described to police how he sourced the horse manure from a farm and used "liquid" to make it runny enough for him to throw it at Charles and Camilla.
He said he was protesting because the royals needed to "earn" respect, not be born with it.
Police had visited Bracanov and warned him not to misbehave the day before his arrest. Patrolling officers eventually arrested him on Queen St, where the royals were due to meet members of the public on November 12.
He had come to the attention of "threat assessment" officers because of his history in protesting against royal visits.
Bracanov told the investigating officer that he had been jailed for three days "nearly 20 years ago" when he tried to spray Prince Charles with toilet freshener during another royal visit to New Zealand.
"He qualified [to be a prince] with his body and what body produce is s***, so I sprayed," Bracanov said.
"I said 'spray the s***, spray the s***'."
As well as the fine, Judge Kiernan ordered Bracanov to pay court costs of $132.89.
She said Bracanov "made clear that he wanted New Zealand to be a republic, there were fascist laws that meant that you could not criticise the Queen and he would continue his fight against royalty until his death".
After she sentenced him, Bracanov accused the judge of "allowing" the royal family to steal.
Judge Kiernan asked Bracanov if he was a citizen of New Zealand, to which he replied "yes".
"You swore an oath to the Queen [when you became a citizen], didn't you?" Judge Kiernan said.
Bracanov replied that he had changed his views on the royals as he grew older and not understood what was going on when he was younger.
"Stealing is always wrong, that's why I don't steal," he said.