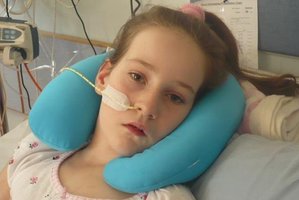 A Masterton couple helped to raise more than $5000 for the Grace Yeats Trust after they read a newspaper article about the Grace's Oil of Gratitude fundraising initiative last December.
Mike and Michelle Milburn read the December 27 article in the Wairarapa Times-Age about the development of the massage oil which is being produced and distributed by Herb Farm to raise vital funding for the Grace Yeats Trust and said it empowered them to act.
The 11 year-old was recently diagnosed as only the 13th person worldwide to have ever contracted a rare and incurable variant of Acute Disseminated Encephalomyelitis or Adem. The diagnosis followed Grace spending nine months in Auckland's Starship Hospital and almost two months in Wairarapa Hospital, where extensive medical treatment and tests had been done.
Herb Farm managing director Sarah Cowan and her mother Lynn Kirkland from Palmerston North developed Grace's Oil of Gratitude massage oil after they met Grace's father last year. He told them Grace had used the herb farm's Baby Calm Oil which had been very therapeutic and beneficial.
After the encounter they put their heads together and the idea for Grace's Oil of Gratitude was born.
Mr Milburn said he read the article and thought the Martinborough Fair would be an ideal place to sell the product. "We got good numbers of 15,000 to 20,000 people so it was a good place to start."
Mr Milburn said they were kindly donated free sites by South Wairarapa Rotary Club and the reaction was so positive they decided to significantly increase their distribution. "It's probably fair to say my wife took over then," Mr Milburn said, "She's the organiser."
He said they felt a bit like area manager representatives for the product and they were delighted to help. "We've been chasing and coming up with ideas and ways to move the product. We don't know the Yeats family personally but you've got to feel for them."
After the success of the Martinborough Fair Mr and Mrs Milburn approached outlets in Masterton such as Pak'n Save, Lorna Potter Beauty Therapy, City Fitness and Masterton's Fernridge School who are now all selling the product.
Mr Milburn thanked Phil Workman Signs and Mangan Graphics who supported the promotion of the product and the fundraising initiative which he said was very beneficial.
For more articles from this region, go to Wairarapa Times-Age