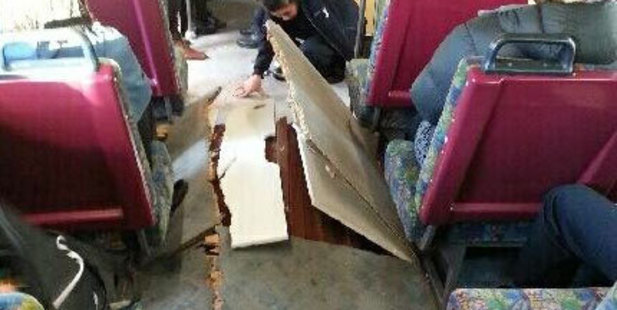 Children screamed as a commuter train packed with hundreds of passengers started to screech and shudder before derailing near Wellington at peak time this morning.
KiwiRail has pulled its 26-strong fleet of Ganz Mavag trains from service for urgent safety inspections after the train left the tracks at Kaiwharawhara, just north of Wellington Station, about 8.15am.
The Transport Accident Investigation Commission (TAIC) and the New Zealand Transport Agency are also investigating.
Four passengers suffered minor injuries when the rear car of the train, packed with 350 passengers, derailed at the rail yard opposite the ferry terminal.
An air tank on the bottom of the train detached and broke through the floor of the car, but KiwiRail said it was not yet known whether that caused the derailment or happened as a result.
Carol Derbyshire, a passenger in the rear car, said she realised something was wrong when she heard screeching and the train started shuddering.
"It almost sounded like we had hit a big, giant rock or something. It's hard to describe - it was just like a screeching sound on the tracks," she said.
Ms Derbyshire said school children started screaming and passengers had to lean forward to brace themselves on seats.
After the train came to a rest, she realised the children were screaming because debris had punched a hole through the aisle.
She said it was lucky passengers were seated and the train was not going too fast.
Passengers either then walked into the city or wited for a bus service.
The derailment backed up a further nine services, delaying hundreds of morning commuters, and forced the closure of the Hutt and Kapiti lines at Porirua and Petone.
Services resumed this afternoon and will run on reduced timetable this evening while inspections take place and repairs are carried out.
KiwiRail passenger general manager Deborah Hume said it was not yet known what went wrong, but there was thought to be an issue with a weld on an air tank on the underside of the car.
She said an inspection of the Ganz Mavag fleet would look at the area of concern to make sure it was not a wider problem. No issues had been identified so far and fleet was expected to be back in operation by tomorrow.
Ms Hume said the Ganz Mavag fleet, which was due to be replaced with new Matangi trains, underwent hundreds of hours of checks every year.
"Our passengers can be assured that safety is our number one priority and if we had any concerns about the safety of any of our trains, we would not be using them to run services."
TAIC spokesman Peter Northcote said investigators had examined the derailed train and recovered debris that apparently dropped from the train.
- APNZ