X-rays reveal cellphone in body of rapist stabbed 28 times at Paremoremo jail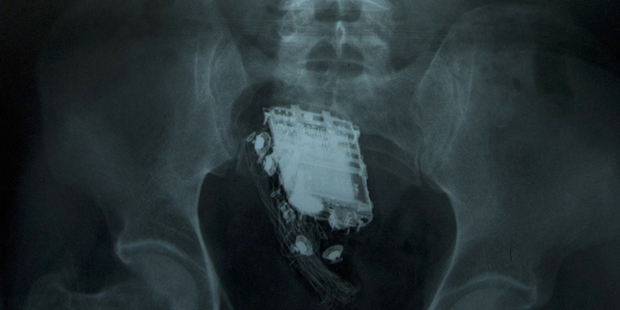 Doctors working to save the life of a violent prisoner who had been stabbed up to 28 times this week made a strange discovery - he had a cellphone hidden in his rectum.
The Herald on Sunday understands the discovery was made only when scans were taken of the stab wounds suffered by rapist Tangi Nikoia, a Paremoremo Prison inmate.
Nikoia is serving a 16-year sentence after being convicted in November 2011 of six counts of violent and sexual offending, including rape of his former partner, and nine other charges of kidnapping and violence against her and their 9-year-old son.
Nikoia's mother, Maki, of South Auckland, said she learned only on Thursday, via another family member, that her son had been attacked in prison and taken to hospital.
"All I know is he is supposed to be stable and has been able to talk," she told the Herald on Sunday yesterday. "I heard he was stabbed."
She added: "I haven't been able to speak to Tangi as we have not been allowed to visit him. I don't know how bad his injuries are. It is very worrying."
Auckland District Health Board, the prison and Corrections officials refused to discuss the cellphone find, and would not even confirm Nikoia's condition last night.
But prison sources said a Samsung-model phone had been removed from his backside. It is also understood he had previously been in trouble for possession of a cellphone.
The source said: "They found the cellphone because they put him through a scan of some sort and the doctor asked, 'What's the metal?'
"Nikoia tried to deny there was anything up his bum but eventually the doctor got it out."
The source said prisoners who hid phones in such a way usually covered them in something plastic.
Corrections Association chief Beven Hanlon was not surprised by the doctor's discovery. He said hiding phones that way was not unusual for inmates. It showed cellphone-blocking technology was not foolproof.
Corrections Department figures show that since jamming technology was introduced to all 19 prisons in December 2009, 644 cellphones have been seized, including 72 at Paremoremo, 155 at Spring Hill in Waikato and 160 at Rimutaka, Upper Hutt.
Corrections has conceded its systems don't provide full site coverage.
Hanlon said: "We've had prisoners that were hours away from going to hospital to have cellphones surgically removed when they've passed them." He claimed one prisoner even hid a charger in his rectum.
He said New Zealand had led the world by installing blockers in jails, but it was important to keep up with the technology. The fact so many cellphones were being smuggled in was proof of flaws in the system.
Hanlon said phones could sometimes be detected at Paremoremo using a metal detector chair known as "The Boss", or strip searches.
Auckland Prison chief Thomas Sherlock confirmed a serious incident occurred between two prisoners on Tuesday. Our source said a rival gang member stabbed Nikoia.
He said cellphones hidden in body cavities did still work, so the moral of the story was: "Never buy a second-hand cellphone; you never know where it's been."