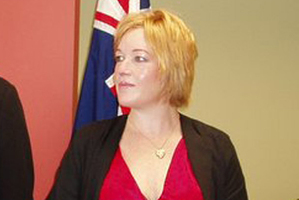 A woman who stole nearly $450,000 from a prominent Auckland couple also pinched thousands from a previous employer - and altered her CV to hide her crime.
Alexandra Holland systematically defrauded $445,643 from Carter Bloodstock - owned by Auckland Arts Festival chairwoman and former city councillor Victoria Carter and lawyer John Carter - in 2 years from 2010.
The 39-year-old Kohimarama mother of two has pleaded guilty to cheque fraud and is due to be sentenced next month.
The Carters believe the stolen money was used to fund luxury items and a lavish lifestyle.
The couple are now reeling from revelations that in March 2005, Holland, nee Meinecke, was convicted of stealing $67,875 from Coca-Cola Amatil, where she worked. She was sentenced to 200 hours' community work.
John Carter said Holland's CV made no mention she had ever worked for Coke.
"It is only now that we are victims that we are discovering the extent of her dishonesty.
The first I'd heard of a previous theft was after she was interviewed by police.
"Apart from getting employees to sign that they are willing to allow a police check, there isn't a lot more you can do. And when recent former employers give glowing references, you place a lot of faith in them."
Holland's CV stated she was office manager for the Mirimar Group for the period she actually worked for Coca-Cola.
Mirimar was owned by Bradley Watson, a struck-off lawyer and her uncle.
She did work for him later, and he said there were no issues. "She was fabulous and she did not steal from me, if that's what you're getting at."
Holland, who is now employed by Trackit in the CBD, refused to comment on the holes in her CV, or the Coca-Cola theft.
Another ex-employer, David Walden, said though he didn't identify any fraudulent activity when she worked as his PA at an advertising firm, her time there was problematic.
"She presented herself as extraordinarily competent and I entrusted her to do the job ...
But I found she wasn't emotionally equipped to deal with a pressured creative environment and her interpersonal relationships with other staff caused us problems.
"We came to a mutual agreement that it would be best to move on."
In light of the recent conviction, Walden is reviewing his personal bank accounts from that period. He stressed Holland had not been involved in the firm's financial affairs.
Victoria Carter believed more needed to be done to protect employers from dishonest employees, suggesting a register so companies could choose whether to take the risk.