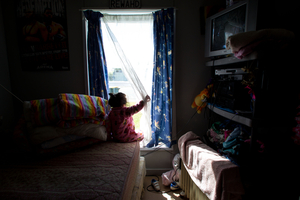 You've seen the pictures of large numbers of people with mattresses on the floor, small houses where families crowd together because rents are too high. Close contact spreads infectious disease.
Rheumatic fever is a barometer of the delivery of healthcare and the access to decent housing.
Addressing rheumatic fever is an admirable goal but there are an awful lot of other diseases that are dependent on those same two things: the commonest are lower respiratory illness in small babies, and pneumonia. Then we have a lot of children going to hospital with serious skin infections like cellulitis, who need better healthcare access.
You can't see a sore throat but you can see the skin disease. You see children with untreated sores. We should aim to reduce hospitalisations of these children by looking at the whole package: delivering healthcare through schools, then checking on families as we visit to dispense antibiotics.
We cannot stop at rheumatic fever. We need a much broader approach to improving the lot of these children.
Why? It is about basic human rights and about a phrase we don't usually use: human capital. We need these kids for the future.
Rheumatic heart disease cuts your lifespan by 10 years. So does pneumonia, which can turn into bronchiectasis - chronic pus from the lungs. They shorten lives, reduce people's economic capacity, raise our hospitalisation rates.
We're paying vast amounts to deal with diseases that are preventable. This is a disease that we no longer see in the richer neighbourhoods. It's a Third World disease.
Insulation is common sense; Adrian Trenholme and I have just published a study showing 30 per cent of families don't have heaters. Warrants of fitness are important, too - and not just for state houses. They're needed for private rentals.
We may have this 1950s mantra of social equality, but we're a very self-centred society. Many countries have far higher levels of social housing than us. Many countries believe decent housing is a human right.
• Professor Diana Lennon is a paediatrician and an expert in infectious diseases