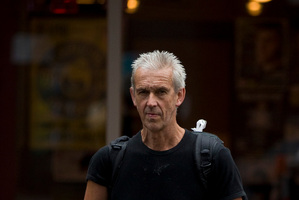 A homeless man collecting scrap metal for cash unwittingly sparked a costly bomb scare when he left a refrigerator compressor on a city bus stop seat.
Auckland man Sean O'Dwyer found the discarded motor at the bottom of Queen St on April 24 and carried it most of the way up the busy street before tiring and leaving it at the bus stop.
"It was really heavy so I left it there and went to organise someone I know with a vehicle to collect it," O'Dwyer said.
"I came back to get it and the street was closed off and there were police everywhere and they wouldn't let me through."
A concerned member of the public had alerted police when they saw the suspicious looking package on the seat putside the Q Theatre.
More than 20 police and Defence Force personnel were involved in the response, which saw part of Queen Street closed for four hours to pedestrians and traffic.
At the time, Inspector Willie Taylor of the Auckland Police said the package was deemed suspicious because it could not be identified. "When we looked at it we couldn't clarify what it was or why it had been left there," he said.
A Defence Force robot fired a 'water-based charge' at the package, which is designed to cause an explosive device to blow up.
The package did not explode, so was then packed in blast-proof material and taken to a Defence Force facility for further investigation.
It was only when O'Dwyer was sitting at McDonald's Queen Street the next evening he realised it was his fridge motor that caused the scare.
"I saw the article in the Herald and I thought oh, so that was what all the fuss was about," O'Dwyer said.
"With the Boston bombing I can understand why the bomb squad was sent out but I didn't even think when I left it there," O'Dwyer said.
O'Dwyer, 55, started sleeping rough as a 15-year-old and uses what he describes as "extreme recycling" to get cash. The compressor was worth around $10 in copper wiring and scrap - a small fortune for the man who said he would "jump into a sewer for a penny."
"I call what I do extreme recycling because I will go for anything but I also keep extremely fit with all the weight I carry around."
O'Dwyer said he worked with a network of recyclers in the city who squirrel away cans and discarded metal until they have access to a car for collection.
"We hide things in bushes until we have a vehicle and then we collect it all," he said.
Since the bomb scare O'Dwyer has contacted police to get his motor back.
"I'm not going to get obsessed with it but I would like the damn thing back."