Chemical emissions from wooden imports may damage health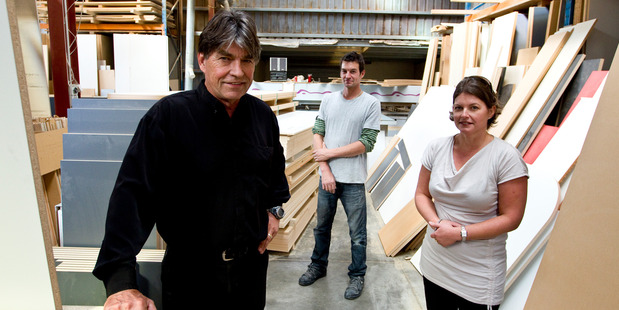 Consumers are being warned that thousands of items of furniture may contain uncomfortably high levels of formaldehyde because of New Zealand's lack of restrictions.
Formaldehyde, known for its use in embalming, also forms the basis of some binding agents used in pressed-wood products, such as particle board and MDF.
Systems Commercial Furniture has been running advertisements saying that cheap imported desks are "poisoning kids while they study".
Owner Brian Ward's concerns are backed by Green MP Catherine Delahunty and eco-home design firm Ebode.
People exposed at levels above 0.1 parts a million (ppm) of formaldehyde can experience watery eyes, burning sensations in the eyes and throat, nausea and difficulty breathing. Homes with a lot of pressed-wood furniture can have levels higher than 0.3ppm.
Delahunty said formaldehyde continued to come off products for years after they were made.
Emissions were worse in hot, humid conditions and small spaces.
In New Zealand, Carter Holt Harvey produces MDF with less than 1mg of formaldehyde a litre of air. By comparison, Chinese studies found furniture was being produced there with up to 7mg a litre, 3.7 times the Chinese national standard.
Ward said most cheap imported furniture would have formaldehyde levels higher than many consumers would be comfortable with.
The Ministry of Business, Innovation and Employment said there were no regulations on the use of formaldehyde in furniture in New Zealand. It had not been alerted to any health issues and "if we did receive complaints, we would investigate".
A spokeswoman for The Warehouse said that any MDF furniture it stocked must meet European formaldehyde emission standards, with emissions under 0.3ppm.
"We regularly audit our supply chain for standards such as this." Laminate or paint on a surface would reduce formaldehyde emissions.
Ward said his factory was the first in New Zealand to have Forest Stewardship Council certification, so it could prove its boards were safe.
Systems Furniture uses Fletcher Building's Laminex, which is accredited by the Green Building Council and Environmental Choice. The general manager, Robin Taylor, said only products with no formaldehyde, or only negligible amounts, could be accredited.
Dr Chris Walls, of the Australian and New Zealand Society of Occupational Medicine, said the biggest risk was for people manufacturing the furniture. "It does gas out."
MDF dust is classed as carcinogenic by the World Health Organisation. Ward said that was his driver for choosing to avoid formaldehyde-heavy products. His two sons and daughter work in his factory. "I lost my wife a couple of years back, so it makes you more protective."
Walls said ageing furniture would not give out much formaldehyde but some people could have allergic reactions.
Ebode's Jette de Jong suggested consumers were better off buying second-hand solid wood furniture.
Laminex marketing manager Jared Dinneen said not all products in the Kiwi market met the stringent Australian and New Zealand formaldehyde standards.
Ward said consumers were buying cheap furniture without thinking about the consequences and there needed to be an awareness campaign.