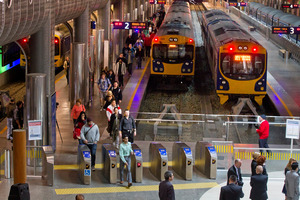 Auckland's $500 million rail electrification project faces a six-month delay but KiwiRail vows it will still be ready for the first electric trains to start running in April.
The state-owned company yesterday confirmed that track electrification will spill into next year, well beyond the project's planned completion date of August.
That was to have preceded the arrival in September of the first of 57 new electric trains which - with a new depot being built at Wiri - are costing a further $664 million in a cost-sharing agreement between the Government and Auckland Council.
KiwiRail chief executive Jim Quinn blamed access difficulties for contractors to increasingly busy rail corridors for delays in running overhead power wires to Britomart and elsewhere.
He insisted the tracks from Papakura to Britomart would be electrified in time for the first batch of about nine new trains to start carrying passengers in April, although he said "testing and tuning" of the system would need to continue until 2015 as it would need to have full-length trains running frequently beneath the wires.
"This is after all brand new infrastructure," Mr Quinn said.
Electrification of the Onehunga branch railway and the southern line from Westfield to Newmarket has already been tested and commissioned.
But passengers will have to put up with another extended summer shutdown of the rail network for the final electrification push, after which KiwiRail says all tracks between Papakura and Britomart will have been wired up and the western line will be "largely complete".
The focus for the first three months of next year would then move to "finishing works and testing - so the network will be ready for [Auckland Transport's] planned introduction of the new trains into service in April."
The first three-car train is due in September from its Spanish factory.
Electrification work will meanwhile continue this weekend, when trains will stop running on the southern, eastern and Manukau lines, to be replaced by special bus services.