Danielle Wright finds Wellington alive with art events, food and popular culture this winter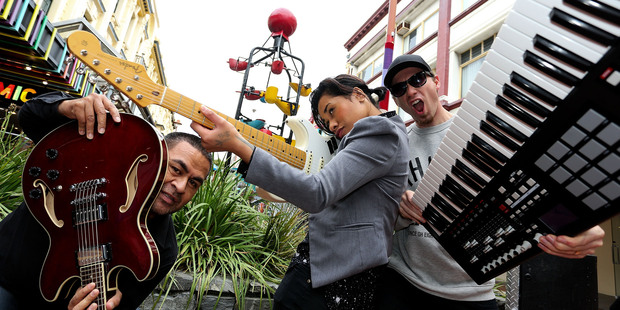 Wellington is a city often likened to Melbourne, as opposed to Sydney, or San Francisco, as opposed to Los Angeles. The distinction is an important one when it comes to the atmosphere and success of the city's vibrant events calendar.
As Financial Times journalist Anna Fifield said of Wellington, in comparison to Auckland: "It has character instead of homogeneity; it is compact, not sprawling; it is quietly confident, not brash and in-your-face."
Positively Wellington's CEO David Perks agrees: "There are lots of really good events all around New Zealand, but what's special about Wellington and its events is what's special about Wellington on a daily basis. It's also such a compact city, so an event can take over the whole town, bringing real energy to it."
Here's our pick of the events to head to over winter:
Handmade 2013
June 1-2
"The idea for Handmade came to me in complete form one day as the world was turning upside down," says Handmade managing director Melanie Walker. "I wanted a festival that wasn't necessarily food or wine or fashion."
The result is a combination of those elements with a large dose of craft thrown in. There are workshops where people can learn and create with the help of an expert, as well as masterclasses, which are mostly presentations and demonstrations.
"There's been a renaissance in handmade crafts of old, but in a modern context," says Walker. "We see a lot of smart phones being used now. Tamsin Cooper designs on the latest technology but embroiders in a handmade way, it's a wonderful combination."
There will be a Meet the Makers Party, a knit lounge and even a Handmade Juniors workshop for children aged seven plus. Events include cheesemaking, upcycling vinyl records, "ply on the fly", and decorative clay bunting, as well as an event on how to build and run a creative e-commerce store on a small budget.
"There's nothing like Handmade anywhere else. It's not a craft show, it's an experience, and the events are all within walking distance so it's also a great way for visitors to explore our compact wee city."
Guest experts include chef Ruth Pretty, interior designer Alex Fulton, fashion designer Tamsin Cooper and author of Thrift to Fantasy, Rosemary McLeod.
Wellington Jazz Festival on Cuba
June 6-8
Headline act Chucho Valdes has won eight Grammy Awards and is one of Cuba's greatest jazz pianists and band leaders. He has played the world's top jazz clubs and concert halls, from Ronnie Scott's to Carnegie Hall. The Wellington Jazz Festival is his first New Zealand performance.
"Chucho is just amazing," says festival artistic director, Shelagh Magadza. "He's simply one of the greatest pianists alive. I am so excited to hear him live in Wellington, his music will have people jumping out of their seats."
Other highlights include two-time Grammy Award winner, jazz vocalist Cassandra Wilson, dubbed "America's Best Singer" by Time magazine. Local talent includes Mantis: The Music of Drew Menzies, The Opera House Session, Iva Lamkum and Jennifer Zea.
Dress up in vintage gear on Friday night when handbags, glad rags and second-hand style will be the focus and spot prizes for the best outfits will be on offer across all venues. Also be on the lookout for pop-up Jazz Jams on Friday and Saturday around midday.
Warhol: Immortal Exhibition Te Papa
June 1-August 25
Andy Warhol was a founder of pop art and so linked to popular culture that it's hard to imagine he was born in the 20s.
The exclusive exhibition Warhol: Immortal is a collection spanning his lifetime from early drawings through to some of the last works he ever made.
Te Papa's acting senior curator (art), Sarah Farrar says, "Warhol: Immortal includes a fantastic selection of works from throughout his career and explores how his work evolved over his lifetime."
There are self-portraits, as well as portraits of friends, celebrities, socialites, politicians and rock stars across multiple media including paintings, MTV videos and magazine covers. The exhibition is a partnership between Te Papa and The Andy Warhol Museum in Pittsburgh.
Phantom of the Opera, St James Theatre
June 13-July 6
The Phantom of the Opera has spent 25 record-breaking years in London's West End. Now it's Wellington's turn and it's already the fastest-selling show in Wellington Musical Theatre's 120-year history.
Phantom brings French writer Gaston Leroux's small-but-perfectly-formed novel to life with the haunting and melodramatic Andrew Lloyd Webber musical compositions such as All I Ask of You and Music of the Night.
"The St James Theatre is the most beautiful theatre in New Zealand and where this all-new design is making its international debut," says co-producer Adam Blackwell.
"Chris Crowe, who plays the Phantom, has been described as one of the greatest musical theatre talents ever seen on stage in New Zealand."
It's all there – the twisted love story, the mystery and the gothic romance.
Weta Workshop has helped create the prosthetics for the Phantom and there will be 200 costumes on show, designed by Allan Lees.
Visa Wellington On a Plate
August 9-25
Roll up, roll up, for the greatest foodie show in town: Visa Wellington on a Plate is celebrating its fifth year and is going to be bigger and better than ever.
"We've got degustation dinners, themed events, days out, events for children and families, masterclasses, hand-on cooking workshops and Beervana, New Zealand's largest craft-beer festival - pretty much something to suit every taste, palate and budget," says Visa Wellington on a Plate co-director Sarah Meikle.
Dine Wellington gives people a chance to try out 110 restaurants in the Wellington region with a fixed menu programme for just $15-$45. There's also Burger Wellington, a hotly contested title for the region's best burger.
"Wellington has the most wonderfully collegial hospitality industry who are so supportive," says Meikle. "That, as well as the walkability of the city, makes Wellington the best place for New Zealand's largest culinary festival."
Look for accommodation deals at the Inter- continental and Bolton Hotels. Air New Zealand will offer packages, which will be available through new website, visawellingtononaplate.com, launching on June 6.
World of Wearable Art Awards Show
September 26-October 6, TSB Arena, Queen's Wharf, Wellington
It's been 25 years since Dame Suzie Moncrieff first conceived the idea of taking art off the wall and adorning the human body. What started as a promotion for a rural Nelson art gallery has now turned into a global phenomenon where art, fashion and theatre collide.
"From the very beginning I have wanted to take WOW to the world. WOW crosses cultures, bridges language barriers and excites and inspires both designers and audiences," says Moncrieff. "I'm still as passionate about WOW as I was at the very first show."
New for this year is a partnership with Weta Workshop, where designers have been asked to create a costume that crosses the boundaries of wearable art and film. The winner will intern at Weta for a month.
New Zealand Chocolate Festival
September 6-8, InterContinental Hotel, 2 Grey St, Wellington
Chocolate fountains, chocolate tastings, chocolate-inspired body art and jewellery, even a chocolate chess set.
This year's New Zealand Chocolate Festival will have everything from the decadent to the downright cute - who could resist taking their children home a chocolate mouse or piglet?
"Chocolate is the ultimate comfort food; what better festival to have over winter," says event manager Frank Stoltenberg.
"Wellingtonians are very much aware and engaged with culinary pursuits and it's also such an easy city to get around."
"At the festival, we bring together chocolatiers from all over New Zealand and invite festival-goers to talk directly with the makers," says Stoltenberg.
"There are culinary theatre sessions and the festival aims to educate about the history of chocolate, how it's harvested, processed and ultimately made into the delectable treats we all enjoy."
There will also be a Pop-Up Chocolate Factory in the middle of Wellington, where anyone can have a go at making their own chocolate truffles.