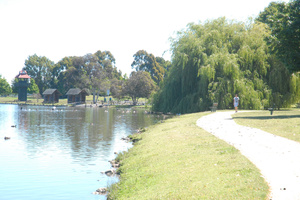 Toxic algae levels in Henley Lake have retreated making it safe for water sports and for walking dogs.
Tests carried out by Masterton District Council have shown that levels of cyanobacteria, also known as blue-green algae, have significantly fallen and the lake has now been declared a "low risk" level.
The council has wound back the large warning signs to the yellow, low-risk zone and will be removing the smaller health warning signs around the lake.
Council parks and facilities manager Grant Hathaway said algae had been an ongoing problem at several waterways in Wairarapa.
"We've got Henley Lake, the Ruamahanga and the Waipoua, the blue-green algae can be found in all of these waterways."
Mr Hathaway said although the lake was fine for those taking part in water sports, such as dragon boating, it was not considered suitable for swimming at any time.
"It is never close to the point where there is absolutely no algae in the water but it's not considered to be at a level that presents any risk or harm [presently]," he said.
Dogs may be exercised off the lead throughout the reserve area but the prohibition on dog access to the wetlands area between September 1 and November 30 each year remains in place.
The dangers to dogs when the levels of algae are high are extremely serious.
"The risk to dogs is that it can be fatal and for humans it can react to your skin and if swallowed can make you fairly sick as well."
Mr Hathaway said the fall in algae was associated with a fall in temperature and measures taken by the council.
"We've introduced carp fish to control the vegetation in the lake which will affect water quality and we're considering alternative options for the future."
The council will advise the public of any changes in water quality of health significance.
For more articles from this region, go to Wairarapa Times-Age