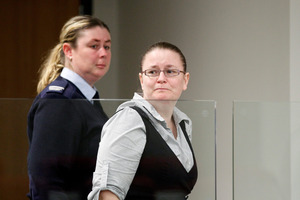 A teaching authority says it is yet to receive a damages payment from TV3, despite a District Court judge's conclusion that the broadcaster has a "moral obligation" to do so.
Judge Roy Wade slammed TV3's Campbell Live programme after it aired a story about early childhood teacher Tracy Hibberd, who was then being investigated for forging her qualifications.
During the item, John Campbell referred to Hibberd's diploma and said "it looks legit to us".
Judge Wade said the story damaged the reputation of the NZ Tertiary College, which had spent more than $32,000 investigating the case.
He said Hibberd's own lawyer described the photocopied documents as appearing "artificial and amateurish".
" ... It does seem to me to be a case where journalists have rushed into judgment without ascertaining, first of all, the basic facts in the matter."
Judge Wade said TV3 had a "moral obligation" to set the record straight, apologise and make payments to the college for its financial loss.
TV3 declined to comment yesterday about possible remedies to the college.
Hibberd was found guilty of five charges of forging documents and three of obtaining by deception after a jury trial at the Auckland District Court in March.
Judge Wade insisted that the Campbell Live story be played to the court room at Hibberd's sentencing yesterday. During the interview, Hibberd wept as she said how much she loved her job.
"I would never, ever do anything," she said in response to a question about the legitimacy of her qualifications. The programme ended with several documents, purporting to be correspondence from the college, being shown on screen.
But in truth, Hibberd had failed an assessment twice when she decided to forge her qualification, rather than sit the test for a third time.
She told her employer at Clevedon Kidz Early Childhood Centre that she had passed and even made up a fake diploma and cover letters. The fake qualification meant she was promoted to team leader and got a pay rise.
Crown prosecutor Mark Williams said Hibberd went on national TV and blamed the college. "She was lying to the nation."
Hibberd's lawyer Lorraine Smith said her client was still protesting her innocence. She had low self-esteem and had learning difficulties.
In sentencing, Judge Wade said Hibberd had tried to shift the blame to two of her former colleagues, but evidence at trial showed she was the only one with access to the building when her fake qualifications were created.
Judge Wade had started with a jail term but took Hibberd's previous good record into account and reduced her sentence to home detention.
- APNZ