Proposed replacement of high-performance sail training centre faces fight to get consent.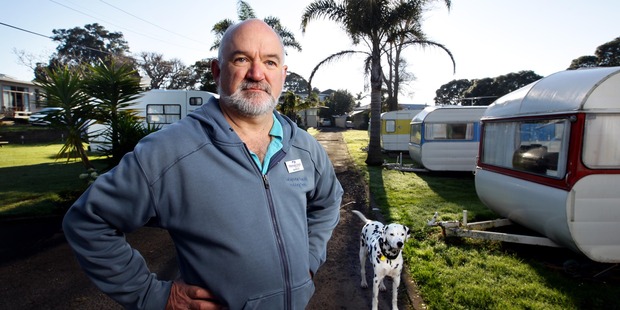 The iconic Takapuna Beach camping ground is doomed and an $8 million high-performance sail training centre proposed in its place faces an uphill struggle for resource consent.
After months of hot public debate, a panel of commissioners will put its recommendations on the Takapuna Beach Reserve Management Plan to the Devonport-Takapuna Local Board on Tuesday.
Future use of the northern end of the reserve for a marine hub has been a major issue for the members of the hearings panel - Greg Hill (chairman) and local board members Chris Darby, Dianne Hale, Jan O'Connor, Kevin Schwass and Joe Bergin. A draft of the management plan went out for public consultation last July.
The panel received a petition with 2037 signatures seeking retention of Takapuna Beach Holiday Park and 245 submissions through Yachting NZ supporting a National Ocean Water Sports Performance Centre on 40 per cent of the camping ground.
The panel said Takapuna was tipped to become a metropolitan centre and there was pressure on the reserve because of its increasing popularity and growth in sailing regattas, waka ama, and swimming events.
People wanted to access, use and enjoy the reserve and visit the Takapuna beach cafe and a proposed Takapuna to Milford walkway.
Because of this pressure, most of the panel felt the plan should reflect the changing nature of the beach and be a more organised place. But the reserve should also keep its informal character for picnics and play along the waterfront edge and a limited number of leases and licences.
Many submitters stated the camping ground was a "cultural icon" and offered the "quintessentially Kiwi holiday" at the beach. However, no provision was made for it in the draft plan.
The council lease for the 80-year-old business expired in March and the park has remained on a month-to-month basis since.
A resource consent for tourist flats and a manager's residence expires in January 2014, with a condition that the buildings be removed.
The panel said its understanding was that ultimately the land would be returned to public use.
"The role and purpose of the management plan is to ensure the management of reserve land for the benefit and enjoyment of the public for recreation and sporting activities.
"We find it is in the greater public interest for this land to be available for other activities more aligned to the Reserve Act and of greater benefit to the public generally."
Regarding Yachting NZ's plan for a boat storage bunker and a two-storey building for offices and coaching, the panel said submissions showed it was an issue of whether scarce publicly owned coastal reserve be set aside for a select group rather than being available for use by the general public.
"We accept that the concept would foster yachting, triathlon, canoe racing and ocean swimming and allow storage of kayaks and waka ama and stand up paddle boards."
However, the panel did not have sufficient information to "set aside" a defined area for this and was unsure how access to and from the boat ramp would be managed without conflict with other users. The panel suggested boat storage, hardstand and marine activities be contemplated in the plan to allow the board to consider any detailed proposal.
But it was "not persuaded" of the need for a building of 500sq m as part of the centre and other options existed such as commercial sites nearby or adjacent to the reserve.
This means Yachting NZ would have to apply for a resource consent subject to public comments so that social, cultural, economic and environmental impact could be assessed.
Yachting NZ chief executive David Abercrombie said they would probably revisit the design.
"We want to put up something that Aucklanders, New Zealanders and athletes will be proud of and we will recognise that feedback and put up a design that is less in your face," he said.
Holiday Park proprietor Marius Rothmann said he had taken bookings up to August, "subject to what happens on Tuesday night".

What's proposed
• Recommendations over the future of Takapuna Beach Holiday Park go to the local board on Tuesday.
• $8 million high-performance sail training centre proposed in its place.
• 2037 signatures received on a petition to keep the holiday park.
• 245 submissions through Yachting NZ support a National Ocean Water Sports
• Performance Centre on 40 per cent of camping ground.