Teen faces possible surgery after poison blamed on spider spreads up her arm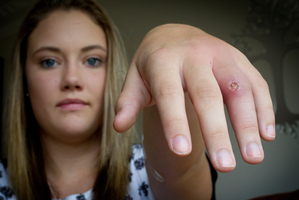 It started as two small scratches on her finger - but now an Auckland teenager may need surgery after poison from a suspected spider bite spread up her arm.
Stella Twigley, 15, noticed the marks last week and initially thought nothing of them. "Then overnight my whole finger swelled up and I felt really sick. I had no energy. I felt achy and sore all over."
The Pakuranga College student stayed home that day and her condition worsened. "I realised there was these big red welts coming from that finger round my arm up to my shoulder. My hand started tingling and I couldn't really feel it."
Feeling short of breath and faint, Stella was taken by her mother to the doctor, where she was put on an intravenous drip to administer fluid.
The process had to be repeated every 24 hours. That caused the discomfort and marks to go away but yesterday they returned.
"For some reason it's swelled up again and I had to go on another IV ... If it hasn't cleared up by [today] I might have to go to hospital."
She was shocked to hear it was a spider bite because she didn't feel it or see a spider. "It's a bit scary ... They're not really 100 per cent sure what it was, maybe a white tail."
Stella said the doctors told her surgery might be needed "to scrape the infection out of the [finger] joint".
While hospitals in Auckland said they had not seen any increase in people arriving with spider bites, a spokeswoman for ProCare - which has more than 300 Auckland GPs as members - said there had been a noticeable increase over the summer.
Entomologist and "Bugman" Ruud Kleinpaste told the Herald several types of spider could have bitten Stella and caused that reaction, and not just the notorious white tail.
"There are some others that could have done that. We do have others in New Zealand and they can be quite nasty - they really pack a punch."
One was the steatoda, similar to the Australian redback or the katipo.
Mr Kleinpaste said the presence of spiders could have been boosted by the long, hot summer.
But even then, spider bites were still relatively rare. "People often think they have been bitten by a spider when in fact they have come into contact with a plant."
Spider bites
• Apply ice compresses every two to three hours to reduce swelling and pain.
• If necessary, take pain relief such as Panadol.
• Antihistamines such as Telfast, Claratyne and Phenergan may relieve itching and swelling. A cream with hydrocortisone will reduce inflammation. You can get these from a pharmacy.
• Try to catch and keep the spider in case you need to see a doctor.
• Call 111 for an ambulance if you or someone else has been bitten and has symptoms of a serious allergic reaction or anaphylaxis. These symptoms include:
• Swelling around the lips and eyes.
• Rapid development of a rash.
• Severe dizziness or faints.
Source: Ministry of Health