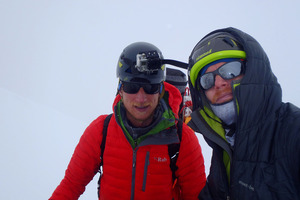 When Scott Scheele slipped and fell 90 metres down a giant Himalayan cliff-face, triggering a terrifying avalanche, climbing buddy Ben Dare hardly dared to look down.
When the snow cleared, Mr Scheele was unconscious, hanging upside down on a rope, with his safety helmet snapped in half.
"Seeing how far he'd come down, I was fearing the worst," admitted Mr Dare, a structural engineer from Queenstown.
Minutes later when Mr Scheele came to, his mate felt an "overwhelming relief".
But he knew he had a long and gruelling rescue ahead of him if they were going to survive the still unclimbed 6960-metre Anidesha Chuli peak, known by climbers as White Wave, in north-east Nepal.
Fighting natural instincts to panic or rush, Mr Dare carefully checked his ropes and went down to check on his American pal, a guide at Fox Glacier.
Although groggy, and a bit confused, he seemed "relatively ok", but was in need of a helicopter rescue.
The nearest rescue spot on the inhospitable sub-zero region was back down the mountain.
He then began the slow and arduous task of lowering Mr Scheele down the slope, one rope length at a time.
With dusk looming, they made it 200 metres down the hillside and camped out for the night.
The next morning, Mr Dare continued to lower his battered pal down to their previous camp, where they called the two other climbers in their four-strong expedition group from New Zealand - Rob Frost, 30, and Andre van Dusschoten, 37 - and activated an emergency beacon.
The other men, climbing through the night, reached the pair about 3am on May 5.
A chopper flew in and rescued them, before Mr Scheele spent more than a week recovering in a Kathmandu hospital.
Today, the pair arrived at Christchurch International Airport and despite their ordeal, haven't been put off any future adventures.
"I'm definitely looking forward to winter and getting back into the hills," said Mr Dare.
But their first stop was Christchurch Hospital where Mr Scheele was needed for a check-up.
"I feel really good," Mr Scheele said today.
He has no recollection of his ordeal, but says things have slowly started coming back over the last few days.
He was grateful for his mate's calm rescue efforts, in his own understated words: "He's been really helpful".
But Mr Dare was just glad to get him home.
"It's great to see Scott getting his memory and his awareness back. We've been told it could be weeks or months before it fully comes back, but it's great to see him making so much progress."
Meanwhile the mountain they call White Wave remains untamed, and the pair haven't ruled out having another attempt at becoming the first to stand on its pinnacle.
"The challenge is still out there," Mr Dare said.
- APNZ