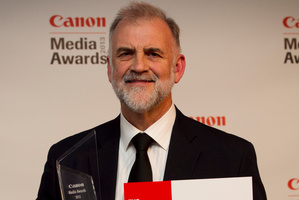 At the Canon Media Awards, the title of best newspaper inserted magazine is usually scooped by the glossier parts of the paper: lifestyle, recipes and celebrities.
So it was a change of form this year when the award went to The Business, the Herald's Friday magazine on all things business-related.
In the words of award judge Jim Tully: "The Business consistently produces authoritative news and commentary in the financial sector."
It was good to get recognition for the importance of business news, says the magazine's editor, Mark Fryer. "Wherever you sit on the fence politically, business matters," he says. "It's not just dry stuff about numbers."
Fryer has been covering business, off and on, since the days of the spectacular 1980s sharemarket boom - and equally spectacular crash - and has seen many changes in the way the news is handled.
"In those days it was very much about the numbers, and very much for those who were already in the know," he says. "It was almost like writing for a club of people who were interested in the sharemarket, and not much beyond that."
These days the aim is to broaden the idea of business news, and to recognise that, important as it is, the sharemarket isn't the only place where business happens.
That's reflected in the issues of the magazine which were entered for the Canon awards. They included stories on topics as diverse as an interview with market regulator Sean Hughes, a group of entrepreneurs hunting for an angel investor, a critical look at the speed - or otherwise - of the Government's ultra-fast broadband scheme, and an interview with outspoken Retirement Commissioner Diana Crossan.
Launched in 2006, The Business has played a role in widening the understanding of business.
"There are still people who can't see why they should care about business," says Fryer. "But then, I've never understood why anyone gets excited about sport, so we all have our blind spots."
A week of winners
Monday
Newspaper of the Year/best newspaper design
Tuesday
Best reporter, David Fisher, and best news site, nzherald.co.nz
Wednesday
Best columnist, John Armstrong
Yesterday
Best photo essay, Richie Robinson
Today
Best inserted magazine, The Business