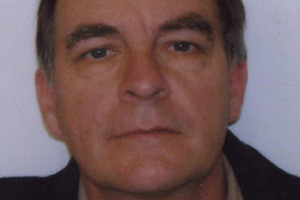 Chasing the call of the rare kokako could have landed a missing Buller man in trouble.
Punakaiki man Leslie Graham Wright, 63, has not been seen since he left a holiday park in Te Kuiti, where he and his partner Deborah Carden were staying, on Monday.
Mr Wright's silver Nissan Pulsar hatchback was found last night by a meter reader who'd been checking the meter at the Pureora Forest Lodge, between Benneydale and Mangakino.
When he returned home he heard the description of Mr Wright's car and number plate through the media, and told police where it was.
Ms Carden said the area where the car had been found was one her partner had mentioned visiting while he was in Waikato, possibly to track down a rare species of bird.
"There's the kokako bird, and we had both talked about how fantastic it would be to go to hear the dawn chorus or the evening chorus.
"I haven't actually spoken to DOC (Department of Conservation) and found out what was going on with kokako, but that was certainly an attraction."
Ms Carden said Mr Wright didn't have a cellphone with him, but said that even if he had a mobile, there was no phone coverage in the area.
At this stage there was no point in speculating about what fate might have befallen him, she said. However, he wasn't the sort of person to do anything silly while out in the bush, and he was very fit and in good health.
Search teams will keep looking for missing man Mr Wright overnight, with reinforcements joining the search in the morning.
Mr Wright's car was found on a forestry road near Barryville last night, allowing searchers to focus their efforts, Sergeant Phil Bell of Waikato Search and Rescue Squad said.
"Up till then we were looking for his vehicle somewhere between Kawhia on the North Island's West Coast and Waihi towards the East Coast.
"But all that changed with the vehicle being located, and we have about 50 police and Land Search and Rescue volunteers involved in what is quite a major search operation.''
The search has involved dogs, a visual tracking team, a police helicopter and ground search teams.
"We put the Police Eagle helicopter to search waterways, clear areas, swamps and other open ground while a scent tracking dog used from first light was replaced about 4pm with a second specialist dog,'' Mr Bell said.
"We've also had a visual tracking team following footprints from where the car was found but so far we've not been able to locate Mr Wright.''
Mr Wright left the campsite at Te Kuiti at 9.45am on Monday. Ms Carden was leaving at the same time to attend a caving conference.
She hadn't expected to see him until after 9pm, but when he didn't return she contacted police who checked local hospitals for any car crash victims.
Mr Wright was brought up in Timaru and moved to the West Coast in 1973 to work as a radio journalist, APNZ reported.
He had since earned a reputation as a historian and author, and had written several books, including Waiuta and latterly Brighton.
For a number of years he also owned and published the West of the Alps free tourist newspaper.
- The Westport News / APNZ