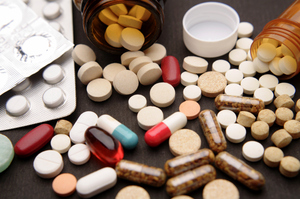 Customs officers are frustrated they are being forced to return harmful drugs into the community because they have a slightly altered molecular structure to the illegal substances the drugs are derived from.
Customs officials told media at a briefing in Auckland today that it was becoming increasingly common for drug manufacturers, mostly based in China, to create new substances derived from established illegal drugs, and send them to New Zealand in the mail.
They were usually cut with other chemicals, and sold on the streets in pill form as drugs like MDMA or ecstasy.
Customs' acting group manager investigations and response Shane Panettiere said there was sometimes no choice but to send the substances on to their intended recipients because they were not technically illegal.
This should change in August when the Psychoactive Substances Bill, aimed to regulate controversial substances like party pills and legal highs, is expected to come into force.
The bill will put the onus on manufacturers to prove their products are low-risk before they can be sold in New Zealand.
"It is very frustrating for us, and that's why we look at other avenues to stop these sorts of thing being released into the community," Mr Panettiere said.
These included confiscating substances on the grounds of mis-identification, because they were often labelled as things like talcum powder or cleaning products.
About 200 interceptions of "white powder psychoactive substances" have been made since Customs launched Operation Static in February.
A total of 328.5kg of powder or pressed pills have been found, as well as 1.8kg of liquid.
Customs was not immediately able to say how much of this had been released to its intended recipient.
Senior Customs officer Craig Dodge said there were factories overseas dedicated to constantly altering a molecule or two of illegal drugs to avoid being netted by legislation.
Most importers didn't even bother to try to conceal their packages because, even if most were confiscated, the profits of getting just one package through would make the venture worthwhile.
"The profit on these is immense. They can be worth one or two thousand dollars a kilo, but if one gets through they can turn it into $20,000 to $30,000 worth of drugs."
Customs manager drug investigations Mark Day said there had been four arrests as a result of the operation, and there was evidence of offenders being linked to organised criminal networks.
"We have a bigger issue with pill taking in New Zealand than we first thought, and the use of synthetic drugs should concern our communities."
Mr Day said the chemical agents that were often added to the drugs were creating harmful cocktails that were being evidenced in A&Es around the country.
"The issue that we have is demand: why are our young people inclined to take a synthetic drug with no knowledge of what it is, where it's come from and what harm it could do to themselves or others?"