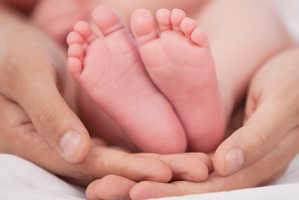 A coroner says too many parents continue to ignore warnings about sleeping beside their babies after a week-old girl died while sharing a bed with her mother, father and a sibling.
The newborn baby girl was not breathing when her parents woke up beside her on the pullout sofa they shared with the baby and her 2-year-old sibling on September 21, 2010.
Attempts to resuscitate the baby at the family's Martinborough home and on the way to Masterton Hospital were unsuccessful.
A pathologist later concluded it was the unsafe sleeping environment that caused the sudden unexpected death of an infant (SUDI).
Coroner Ian Smith, in a finding released today, said families continued to ignore the warnings about safe sleeping positions for infants and the parents of the Martinborough baby had been advised on previous occasions about the safest ways for her to sleep.
"This is yet again another tragic loss of life of a baby which has most likely occurred during an unsafe sleeping environment/co-sleeping with others," Mr Smith said.
"Despite the coroners and other health advisers continually advising that such practice is often fatal, families continue to put their children at a fatal risk."
Mr Smith said a midwife had visited the family's home on several occasions after the baby girl was born and "discussed such matters as sleeping arrangements for the baby".
On one visit the baby was placed down on a couch with an adult-sized pillow and her parents were told it was "very unsafe" because of a risk of rolling over and suffocating, Mr Smith said.
His finding follows an inquest this week which was told a Tauranga 2-month-old likely suffocated after slipping from its pillow last year.
There were about 60 cases of SUDI in New Zealand each year and just over half were the result of bed sharing with another person.
Twenty babies died each year of SUDI in South Auckland alone, largely in Maori, Pacific Island and low income families.
• Sleep baby in their own cot or bassinet
• Make sure the mattress is clean, dry and fits snugly
• Make sure baby's face is well clear of bedclothes
• Place cot in same room as parents' bed
• Put baby down to sleep on their back
Source: Plunket
- APNZ