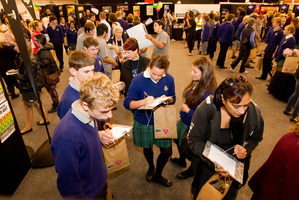 Shocked teenage students have been fainting this week when shown graphic crash images at an education event aimed to encourage road safety.
Stories, photos and videos illustrating the impact of Hawkes Bay road crashes are so graphic at least a dozen students a day fail to sit through details presented at this year's Youth Alcohol Expo.
"The photos we are showing you are graphic," MC and police Constable Simon Pain told students yesterday. "Yesterday we had 12 people faint when we gave these presentations and another seven in the afternoon. This morning, four or five people had to leave the room."
The week-long expo began on Monday and is headed by RoadSafe Hawke's Bay at the Pettigrew Arena, featuring presentations from fire, police, St John Ambulance staff, as well as personal stories from crash survivors.
Students from Central Hawke's Bay College, Woodford House, Napier Girls' High School, Lindisfarne College were among visitors to the expo yesterday, which encourages young people to make better decisions when driving.
Mr Pain asked the students how many drink-drivers they thought were recorded in Hawkes Bay in 2012.
"There were 1391. Most people think there might be about 500 but it's almost triple that. Over the last five years, 1700 have been under the age of 20, that's about 300 a year, which is your age group," Mr Pain said.
"We want to change your attitude. Most of you will be getting to the age where you're going out and socialising and there's going to be a lot of pressure on you."
He said the expo was not "anti-drinking" and emergency services were not aiming to be "the party police".
"But we want you to think about the end of the night when you're going to head home. The crashes I have attended often involve instances when drink-driving was not intended. But most people go out and something happens which changes that."
Mr Pain asked the students to respect the "real-life stories" other expo presenters passed on to them. Some of the presentations featured photos of crash injuries, video clips of ambulance and hospital staff retelling their experiences at crashes, as well as an animated video reconstructing a fatal crash. All related to Bay crashes.
DHB public-health nurses highlighted the Yeah-Nah campaign on easing up on alcohol. Students were reminded not to use a cellphone while driving, and Mothers Against Impaired Driving, Directions Youth Health Services, blood-donor recruitment and Students Against Drink Driving also had advice for them.
For more articles from this region, go to Hawkes Bay Today