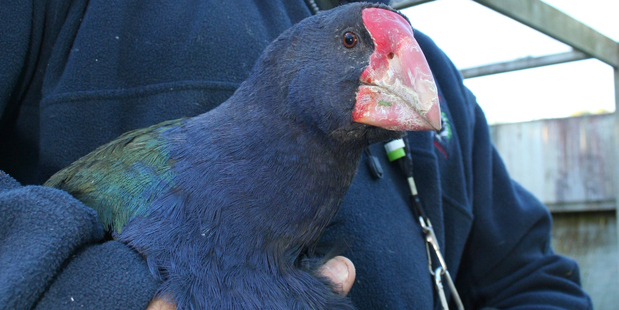 After having had each front toe amputated, could a 12-year-old takahe called Maroro resume a normal lifestyle? The answer is a resounding yes.
Maroro used to live in the Maungatautari Ecological Island in Waikato but recently suffered an infection called bumblefoot which required treatment at Massey University and resulted in the front toe from each foot being amputated.
In February, weighing 2kg, she was taken to the Nga Manu Nature Reserve in Waikanae and released into a dedicated enclosure where it was hoped she would recover and be well enough to fend for herself again.
"The first day she was released here at Nga Manu you could almost see the relief when she had grass under her,'' Nga Manu Nature Reserve manager Bruce Benseman said.
Reserve supervisor Rhys Mills has been keeping a close eye on Maroro.
"She's been able to get out on some open pasture so she can be like a takahe again and have some natural behaviour and get some natural food.
"And also so we can see if she can be like a takahe again by holding the grasses with her feet.
"She has got a lot of those natural behaviours which she can still do though she does find some of the heavier grasses a bit harder to hold and ends up with little paper cuts on the pads of her feet as she pulls the grass through."
Maroro is also an intelligent bird with amazing eyesight.
"She's as sharp as a tack," Mr Mills said.
"We needed to observe her natural behaviours and needed to do that undetected so we'd be sneaking around outside the plywood enclosure and it didn't matter where you popped your head up but she would instantly see you and freeze.
"We ended up having to drill spyholes all around the walls."
Mr Benseman: "From what she has been through to where she is now is a great achievement.
"And just for us to get the opportunity to be involved in the recovery for a species which is endangered has been great."
On Wednesday last week Maroro, now weighing 2.65kg, was taken to the Willowbank Wildlife Reserve in Christchurch where she will be an advocacy bird.
"There are two places in New Zealand other than Mt Bruce which can publicly show takahe - that's Willowbank and Zealandia," Mr Benseman said.
"One of the old takahes died at Willowbank recently so Maroro will be the replacement."
Nga Manu Nature Reserve volunteer John Lewin, from Levin, couriered Maroro in a purpose-made box (funded by Mitre 10 and DOC) to Palmerston North Airport and she was flown to Christchurch free by Air New Zealand in her own reserved seat.
Takahe are classified as a critically endangered species.
DOC takahe site liaison and relationship manager Phil Marsh says there are only 59 pairs of takahe at safe sites nationwide, split between Motutapu and Tiritiri Matangi islands, Maungatautari, Cape Sanctuary, Kapiti, Mana and Maud islands, Burwood Takahe Rearing Unit and Secretary Island.
The last place takahe survive in the wild is in the Murchison Mountains in Fiordland National Park; it is estimated there are about 22 breeding pairs.