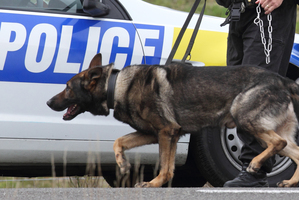 A police dog handler once attacked with a claw hammer is one half of this year's national police patrol dog champion team.
Tauranga's Senior Constable Derek Orchard and dog Turk have been working as a team for the past 12 months, but both have many years of experience.
In 2006 Mr Orchard and a previous dog, Ben, were attacked by a man with a claw hammer.
The top 10 police patrol dogs were competing for national honours at the New Zealand Police Dog Centre at Trentham.
They were joined by six of the best narcotic detector dog teams from Police, Corrections and Customs and the top five explosive detector dog teams from Police, Aviation Security Service and Customs.
Auckland's Senior Constable William Birrell with his dog Hawk were runners up and also won Commissioners Challenge Cup for obedience.
Constable Stuart Rota and Link from Wellington were third and also won the William Rose Bowl for Criminal Work Disciplines.
Top explosive detector dog team and winner of the Aviation Security Shield was Aviation Security Officer Harvey Jefferies and Shadow from Auckland.
Corrections Officer Barry Nelson and his dog Olesia from Christchurch won the Alan Symes Cup for the narcotic detector dog title, and the 'Customs Cup' for the highest marks in locating white powders.
During the police dog section, a special presentation was made recognising the professionalism and devotion to duty of patrol dogs and personnel who were called away from the competition in 2009 due to the Napier seige and shooting of Senior Constable Len Snee.
Deputy Commissioner Mike Bush presented the commemorative plaque to Inspector Brendon Gibson.
- APNZ