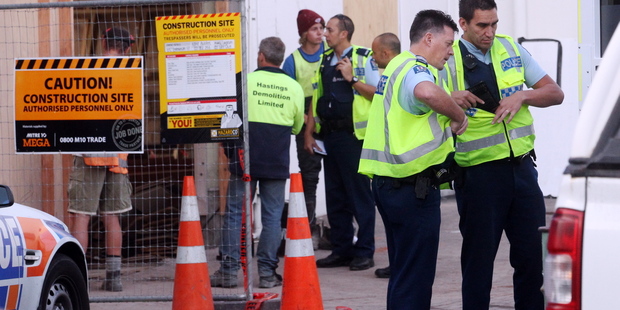 A 53-year-old Napier construction worker was killed in a freak workplace accident after being struck by a large steel beam.
The accident happened about 3.45pm yesterday at the former Farmer's site on Emerson St. The screams of one of the man's co-workers were heard nearby.
He was also heard frantically trying to call an ambulance for help and was yelling to ask what street they were on.
Hawke's Bay police Sergeant Steve Murray said emergency services arrived to find the man on the ground floor, unconscious and bleeding after being struck in the head by a steel beam.
"An on-site worker and ambulance staff tried to resuscitate him but he was pronounced dead at the scene at about 4.05pm," he said.
Mr Murray said the man was employed by one of the building contractors on the site but was unable to specify which one.
"Early indications are that this was a tragic workplace accident," he said.
"An inquiry by local police on behalf of the coroner will take place."
It is understood the man suffered severe head injuries from the heavy beam which was being prepared to be put into place by a lifting machine.
A spokesperson for the Ministry of Business, Innovation and Employment last night confirmed inspectors had visited the site.
"We can confirm there was a fatality at a central Napier building. Health and Safety has attended and an investigation has begun."
The site is managed by Wallace Development Company Limited, a development company which is refurbishing the old Farmer's building.
Wallace Development Company property manager Tom Wallace said last night he had only just learnt of the accident and did not know what had happened.
The death was "just absolutely horrible".
As paramedics and police moved through the site yesterday the rest of the work crew stood quietly outside, clearly shocked.
One man was heard to say "sorry...he's gone boys". A couple of younger workers were clearly in shock.
A colleague was heard to say the dead man was one of the leading hands on site, another, from Patton Engineering, sat with his head in his hands and one was simply too upset to talk.
Ted Miller, the firm's Health and Safety representative, asked for the dead man's mates to be left to their grief and said he was not in a position to say anything about what had happened.
A staff member at the neighbouring Rock Shop said he had heard the commotion and was stunned by what had happened.
"Bloody awful - very bad thing to happen," he said.
The tragedy comes at a time when new workplace health and safety recommendations, in the wake of the Pike River disaster, will enact new legislation based on the Australian model. It will provide support for worker participation, including those who raise health and safety matters.
Existing regulations were advised to be strengthened around major hazard facilities and increasing penalties for those with poor health and safety performance, including extending the existing manslaughter offence to corporations.
- additional reporting APNZ
For more articles from this region, go to Hawkes Bay Today