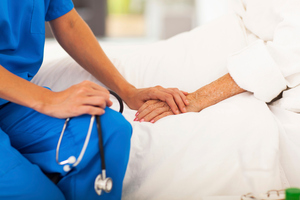 A former Wakari Hospital mental health nurse has been censured for verbally abusing patients, and inappropriately touching one of them.
His name has been suppressed.
The Health Practitioners Disciplinary Tribunal heard the charge against the nurse, known as Mr L, at a hearing in Dunedin in December last year.
Its written finding, released yesterday, found against Mr L in all but one of seven particulars of the charge, relating to incidents in July 2009, and October 2010.
He was censured, ordered to pay part of the costs of the prosecution, and would be subject to strict supervision if he decided to return to nursing.
Mr L had received a final written warning from the then Otago District Health Board after the first incident, in which he spoke rudely to two patients, telling them to go to bed and threatening them with seclusion.
A nurse who gave evidence said this was the worst episode she had seen in 10 years in the mental health service.
In October 2010, Mr L swore at a patient who had asked where an item of clothing was, yelling and ordering the patient to return after he walked away.
The same day, Mr L was playing pool, when he ran his hand up the inside of a patient's leg towards his crotch.
This was in response to another player, a patient, asking "where's your balls?" to the victim, who was taking a safer shot rather than a risky one.
Mr L resigned after issues were raised about this incident.
The decision said Mr L accepted he was unprofessional in July 2009, but said that was dealt with at the time. He did not accept the later charges.
"Behaviour of the kind referred to in the particulars of the charges found is completely unacceptable in a nurse in any environment. Swearing is not acceptable. Aggressive and overstanding behaviour is not acceptable nor is threatening seclusion as a punishment," the decision said.
Mr L was ordered to pay costs of $11,400 to the Professional Conduct Committee, and $11,858.32 to the Health Practitioners Disciplinary Tribunal.
A return to nursing was considered unlikely, but if he did, strict supervision would be mandatory.
Southern District Health Board nursing and midwifery director Leanne Samuel said in a statement the board was pleased with the outcome of the process, which ensured recourse for patients who did not receive high quality care.
"We are of course disappointed that incidents like these happened in our facilities, and are focused on constantly improving our process and staff training to ensure patients are treated with compassion and the [utmost] respect."