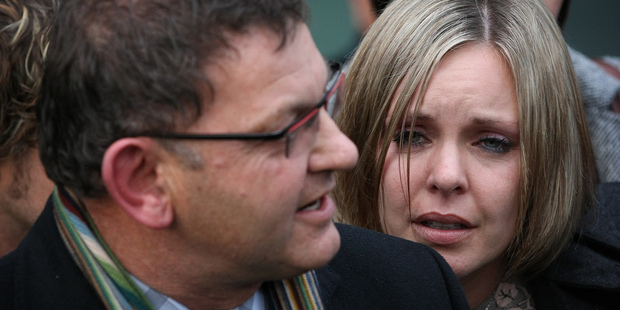 Scott Guy's devastated father has made a plea to his son's killer to give themselves up, nearly a year after a family member was acquitted of the murder.
Bryan Guy still wants the question of who murdered his son answered, telling the Herald he doesn't want the case to drag on for years without being solved.
"Most definitely of course, of course, we hope someone will be held accountable - sooner rather than later."
Police have promised to investigate any new lead, and private investigators are working on the case.
But Mr Guy believes there is only one thing that would bring a case that has riveted Kiwis to an end.
"One day somebody's conscience might make them say something, I guess. But that might be wishful thinking ... "
Ewen Macdonald, 32, was found not guilty of 31-year-old Scott Guy's murder in July last year.
He is serving a prison sentence for arson and vandalism he committed against Scott Guy and his wife, Kylee, and for poaching and killing the calves of another farmer.
He was married to Scott's sister, Anna. Scott Guy was his best man at his wedding, he and the slain man were business partners and after Scott was murdered Macdonald was one of the pallbearers.
Prosecutors alleged a jealous feud between the pair escalated to a pre-dawn shooting, but the jury acquitted Macdonald after a near-month long trial.
Although Bryan Guy is relieved the court case is over, a feeling of frustration remains because the family are no closer to knowing who was waiting for Scott at the end of his driveway on July 8, 2010.
"There are still unanswered questions. The main one is, who killed Scott? Everyone has got an opinion but proving it - the proof is the unanswered question."
In the months since the trial ended public fascination with the case has remained high.
Anna Guy, Ewen Macdonald's former wife, has moved to Auckland and has featured on magazine covers and on television current affairs show as she tries to forge a media career.
Kylee Guy is living in Hawkes Bay with her two boys. She has enlisted the help of private investigators to uncover new evidence and re-open her husband's murder inquiry.
Bryan Guy and his wife Jo have tried to focus on their children and grandchildren's futures, and not to dwell on the past.
"I guess the main focus has been trying to restart our lives, particularly for our children. There have been a lot of changes happen in the last 10 months."
Nikki Guy, Scott's other sister, is married and will have a baby this year, and his brother Callum Guy has left New Zealand and is living in Queensland with his fiancee.
When the trial ended, inquiry head Inspector Sue Schwalger said police had "put all the evidence together and put the best available evidence before the jury".
She said no stone was left unturned, adding: "We will investigate any other information that comes to light."
Police have refused to comment about the case, and their continuing involvement in it, unless questions are submitted under the Official Information Act.
Read more: Father's unanswered question: Who killed my son?