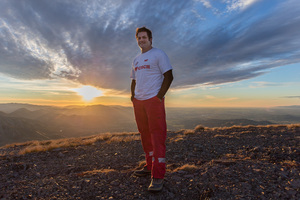 A mountaintop fundraising blitz by two of the country's rugby greats raised $33,000 for charity and settled another round of North vs South rivalry yesterday.
Cantabrian Richie McCaw and Aucklander Sir John Kirwan were yesterday helicoptered into remote mountain ranges with just a phone, 12 survival items and "their wits" to complete a series of challenges for Westpac Rescue Helicopter. It was a high stakes competition for the pair who not only competed to raise donations from two rugged locations - McCaw on Mt Benmore in Canterbury and Sir John on Mt Heale on Great Barrier Island - but also over who would have to laud the other's hometown on national television.
Challenges included making a bivouac, building a fire and demonstrating first aid skills while encouraging fans via social media to donate to the appeal.
When the final totals were announced on Seven Sharp last night, McCaw emerged the victor raising $17,096 compared to Sir John's $15,292. The lesser sum meant Blues coach Sir John had to don a T-shirt emblazoned with "I love Christchurch".
May is appeal month for the Westpac Rescue Helicopter, which last year completed more than 5000 missions.