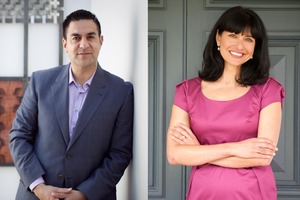 Maori Television executives Carol Hirschfeld and Julian Wilcox are putting their names up to lead the organisation - an appointment which will be one of Maoridom's most anticipated.
Ex-TV3 broadcaster Ms Hirschfeld, who is the general manager production, said although she was "happy to confirm" her intentions she couldn't say anything more.
Mr Wilcox is general manager of news and current affairs and has been the public face of the station since its inception.
"It would be the ultimate honour really in my career if I was able to get the job ... and I'm going to put my best foot forward," he said. "If I don't get it, I'll be supportive of who gets the job."
Exiting chief executive Jim Mather is going to head tertiary institute Te Wananga o Aotearoa in October. Ever affable, he has been a calm captain for the station - growing its reputation for quality programming while competing for national events such as the Rugby World Cup.
Mr Mather will not be drawn on the leading internal candidates for the job. He said he did not want to give anyone the "kiss of death" with his support or unduly influence the board, which still has to advertise and ultimately pick someone.
But there were talented people within the station, he said.
"I'm proud of the fact that we've focused on leadership succession and development and there are a number of strong internal candidates that the board will have the opportunity to consider as part of the wider recruitment process."
But the former soldier and financial controller said that because the organisation had built a strong foundation, a candidate with television industry experience would suit Maori Television's long-term aims of moving past being just a traditional broadcaster into a multimedia organisation.
"We're coming up to our 10th anniversary ... it's probably time to look at how we can further unleash creativity within the organisation.
"It would sort of indicate a candidate with a television background and an understanding of technology and developments could be a more appropriate choice for Maori Television in terms of development."
The organisation is also investing in its staffers' chances of success as Ms Hirschfeld and Mr Wilcox will attend an advanced management course at the University of Melbourne's business school this month.
Carol Hirschfeld
Ngati Porou
*Ex-reporter, TV3 newsreader between 1998-2005, executive producer Campbell Live.
*2009 joined Maori Television as head of programming, now general manager production.
*Pros - 25 years in journalism, strong people skills.
*Cons - not as strong Maori networks, learning te reo.
Julian Wilcox
Ngapuhi, Ngati Tuwharetoa, Te Arawa
*Foundation member of Maori Television, ex-iwi radio host, ex-Native Affairs host.
*Pros - excellent networks, charismatic, strong cultural background.
*Cons - at 38 may be seen as too young, not a huge amount of managerial experience.