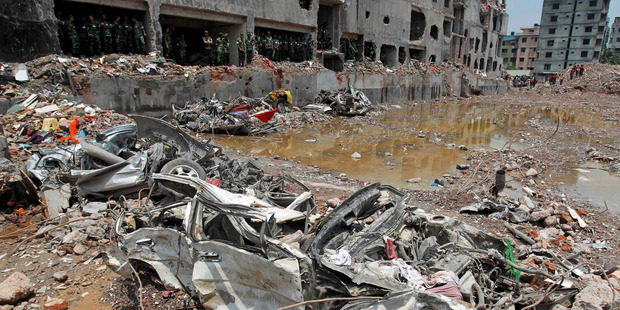 Some of New Zealand's largest discount retailers are not signing up to a legally binding initiative offering financial aid for building and fire safety after the Bangladesh garment disaster, which left thousands dead or injured.
The Warehouse and Kmart sell Bangladeshi-made clothes, but deny their stock came from the eight-storey factory, which collapsed on April 24.
Yesterday, Kmart confirmed it did not sign the accord on fire and safety in Bangladesh, which has been signed by international chains, such as Tommy Hilfiger, Calvin Klein, Marks & Spencer, Zara and Tesco.
Kmart corporate affairs and sustainability general manager Tracie Walker said: "The best place for us to be right now is on the ground in Bangladesh discussing garment work safety with our team, every one of our suppliers and key officials in the country."
She said company representatives will be heading there shortly "to ensure we make informed decisions for the benefit of garment workers, suppliers and the garment industry in Bangladesh".
"We are really devastated by the recent factory incidents in Bangladesh and are planning to use the time we have there to determine the best way forward."
More than 3.5 million people are employed in the Bangladesh garment industry, most of whom earn about US$38 ($44) a month.
The Rana Plaza collapse was the third major accident the industry faced in less than six months.
First Union, a union representing retail and clothing workers in New Zealand, criticised Kmart's decision to not be part of the accord.
"Many international retail and fashion companies have made a commitment to do better for the workers of Bangladesh," said general secretary Robert Reid.
In New Zealand, clothing imports from Bangladesh rose 51.3 per cent to $38 million worth in 2011, according to Statistics New Zealand figures.