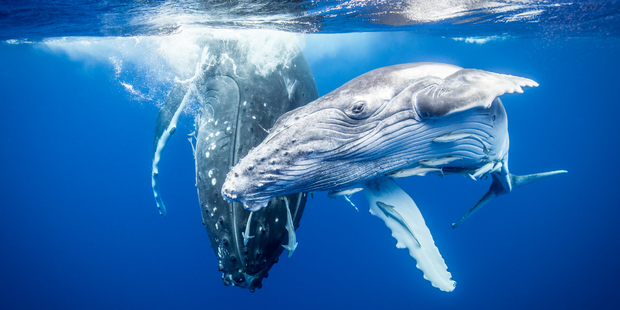 "There's two things I love," says Herald photographer Richie Robinson. "The front page and photo essays."
The Canon judges agreed, because Robinson's stunning collection of humpback whales in the deep blue waters off Tonga earned him the prize of Best Photo Essay at the media awards last Friday.
It was the 36-year-old lensman's second essay award - he took the title two years ago with a series of pilot whales from a stranding at Spirits Bay in the Far North.
Judges Bruce Jarvis and Ross Land said the essay was "a sensational set of pictures as we are taken underwater where humpback whales live".
To get up close to the magnificent creatures, Robinson spent 12 days in the Tongan seas in August. He says he went for the chance to work alongside the acclaimed American underwater photographer Brandon Cole.
"It was a highlight of my career," said Robinson, who joined the Herald in 2000 after a stint with newspapers in Napier.
Diving with a snorkel from a charter boat, Robinson, Cole and two other photographers spent as much time as their permits allowed in deep water off the coast of the Vava'u Island group in northern Tonga. August, when the humpbacks arrive after a long journey from their Antarctic feeding grounds, was chosen as the ideal time to see mothers and their calves, and for the chance to capture a "heat run", where males pursue females for mating.
"They were the exciting moments," said Robinson. "That's where we try to get close to the action."
To photograph wary females and their young calves, Robinson said they needed to be patient and earn the trust of the bus-sized creatures.
"You have to be prepared to wait and convince the whales that you do not pose a threat."
In the sea, Robinson uses a Canon EOS 5D Mark II camera with a wide-angle lens. Water is kept out of the set-up with a lightweight housing made from aluminum and glass.
Robinson's series was published in the Herald and NZ Geographic. He says the magazine has been very supportive of his underwater work.
His artistry will be on show at Auckland Museum next month, when images Robinson captured on a trip to the Kermadec Islands north of New Zealand will feature in an exhibition called Moana - My Ocean.

The Great Migration. Megaptera novaeangliae (Humpback Whale). - Images by Richard Robinson