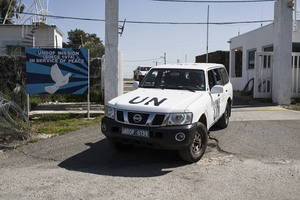 A New Zealand Defence Force peacekeeper was briefly abducted from an observation post in the Golan Heights today.
The Defence Force said the army officer, who is serving as a United Nations military observer on the Golan Heights, was abducted about 1am Israel time (11am NZ time).
"The officer has since been released unharmed and is back at their post within a United Nations facility,'' the Defence Force said.
"The officer was held for just over five hours.''
The Defence Force said it was in the process of informing the officer's next of kin and would not comment further on the incident.
There are currently eight New Zealand Defence Force personnel serving as part of the United Nations Truce Supervision Organisation (UNTSO) in the Middle East.
These personnel work as military observers and are based in Israel and Southern Lebanon, the Defence Force said.
The UNTSO area of operations covers five Middle Eastern countries including Israel, Lebanon, Syria, Jordan and Egypt.
Its headquarters are based in Jerusalem.
The New Zealanders in the region have been deployed there as individuals rather than as a group.
The UNTSO mission for New Zealand personnel lasts for 12 months and involves six months each in two countries, the Defence Force said.
Another New Zealand Army officer serving as a UN military observer was detained and released by armed men in Syria in December.
At the time, the Defence Force said the officer was conducting a regular patrol north of the border between Syria and Jordan to verify the ongoing ceasefire between Israel and Syria when his vehicle was stopped by unidentified armed men.
He was detained with his Austrian colleague for about three hours before being released unharmed. He was able to return to work.
- APNZ