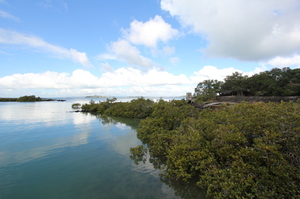 Two women who drowned in their upturned car after it crashed into a mangrove swamp and sank had blood-alcohol readings almost double the legal limit, a coroner has found.
Police could not determine conclusively whether Isobel Faith Solomon-Tauhinu, 43, or Joanne Frances Fisher, 38, was driving when they crashed off the side of a road at Kohukohu in Northland on June 28, 2009.
Coroner Brandt Shortland, in findings released today, said the women would have suffered "horrific" deaths as they drowned in total darkness as their upturned car sank.
Toxicology tests later revealed both had a reading of more than 150 milligrams of alcohol per 100 millilitres of breath, above the limit of 80 milligrams.
"This indeed is a genuine tragedy and unnecessary deaths," Coroner Shortland said.
"It would have been horrific for the two women at the time, which would have happened so quickly; in total darkness; in silence of the early morning; and in an environment of an upside down car fully submerged during a full tide."
Coroner Shortland said the car would have filled "reasonably quickly and the two women had no chance of escaping given the circumstances of the tragedy".
"There would have been extreme panic," he said.
"They would have been familiar with their environment and the roads and this was simply an error of judgement.
"One cannot underestimate the impact of the high alcohol reading, irrespective of who was driving the car."
Coroner Shortland concluded that both women died of drowning.
"This would have been a horrific death for both women in the circumstances. It is yet another reminder of the dangers of drinking and driving."
Ms Solomon-Tauhinu and Ms Fisher were socialising with friends and family in the evening and early morning before their crash.
They left the home of a friend on Creamery Rd in Ms Solomon-Tauhinu's car and were driving along Hawkins Rd when their vehicle lost control at a T-intersection.
The car went over the edge of the road and landed on its roof in a "deep, tidal mangrove" swamp.
Coroner Shortland said the tide was at its highest at that time and would have "totally submerged the vehicle".
The crashed car was not found until more than six hours later when local man, Harding Morunga, spotted it as he drove past.
Mr Morunga could not open the doors because they were partially submerged in mud and he needed to use a hammer to break through the left rear passenger side window to reach the women inside.
An investigation of the crash scene found there was very little seal edge on the side of the road closest to the sea, indicating "no room for driver error".
Coroner Shortland said Ms Solomon-Tauhinu was most likely the driver because of her position in the car but he said that could not be found conclusively.
- APNZ