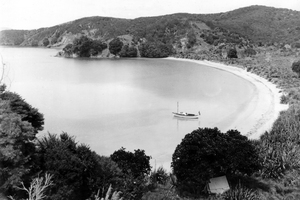 Maori lost swathes of land in the Bay of Islands, including islands now used as millionaires' hideaways, as recently as the 1970s, the Waitangi Tribunal has been told.
Claimants, Crown representatives and tribunal members spent Monday touring the eastern Bay of Islands to see first-hand the places being discussed in the current Northland Inquiry hearings at Waitangi. This week it is Ngati Kuta, Patukeha, Te Kapotai and Ngati Manu's turn to air their grievances.
Matutaera Clendon (Ngati Kuta) told the tribunal his old family land on Moturua Island was lost to the then Bay of Islands County Council and government agencies in a 1968 rating sale when the owners could not keep up with rates demands. Most of the island is now owned by millionaires.
"It's now a rich man's paradise. Both Patukeha and Ngati Kuta feel very aggrieved over the loss of Moturua," he said.
Arapeta Hamilton (Ngati Manu) recounted the events of May 13, 1845 - 168 years earlier to the day - when British troops seeking retribution for the sacking of Kororareka (Russell) attacked Te Kapotai's settlement at Waikare, burning it to the ground, killing its livestock and driving its inhabitants into the winter bush.
A month earlier British forces arrested chief Pomare and razed his pa, Otuihu, opposite modern-day Opua, even though Pomare was flying a truce flag and played no part in the Battle of Kororareka.
Mr Hamilton's contemporary concerns include sewage discharged directly into the bay by thousands of boats. A pumping station at Opua for emptying wastewater tanks was used by the big commercial operators but rarely by smaller vessels.
Richard "Blandy" Witehira (Patukeha) said land for the lighthouse at Cape Brett was taken under the Public Works Act but never returned, as required by law when no longer needed for the original purpose.
For more articles from this region, go to Northern Advocate