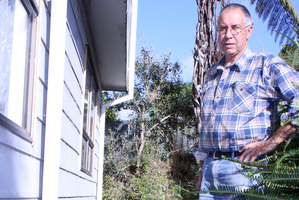 Doug and Heather Carter have had raw sewage spew on to their Dargaville property at least once a year since they moved there 25 years ago.
An apologetic council is unable to explain the stinking mystery and why the sewerage line regularly spills on to their property.
On one occasion, sewage came up through a downstairs toilet and covered the basement floor - ruining carpets, drapes and furniture.
It has happened three times since last December and the Carters say they live "waiting for the next time".
Kaipara District Council operations manager John Burt said the council had put significant work into trying to resolve the problem in recent years.
"We have used cameras to investigate the line and, several years ago, new sewer lines were installed in an effort to alleviate the issues."
Mr Burt said fat deposits, gravel and stormwater infiltration were often problems for old sewerage systems such as Dargaville's.
Alarms were recently installed and routine maintenance at the nearby 35-year-old pump station was carried out twice weekly.
"Apart from the health and environmental issues, the smell is horrendous," Mr Carter said. "They are large spills - several hundred litres per hour of everything that goes down the neighbourhood's loos.
"The last spill in early April was the final straw. It took more than two days and lost hours of work to have the clean-up actioned."
The clean-up wastewater ran into a small stream below the house which fed into the Awakino Stream, Mr Carter said. The spills were always reported to Northland Regional Council but not a lot had been done.
The Northland Regional Council area manager in Dargaville, Gary Treadgold, said the council would monitor the stream.
For more articles from this region, go to Northern Advocate