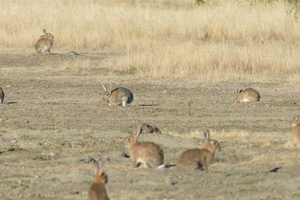 Tallies from the annual Great Easter Bunny Hunt in Central Otago must have embarrassed the Otago Regional Council, as they revealed the ineffectiveness of its pest management, submitters said this week.
Rabbits were at "plague proportions and heading our way", organic farmers Robert and Jackie Aitchison, of Ettrick, told a panel in Alexandra which was hearing submissions to the council's annual plan.
"We haven't got a rabbit problem on our place, but it's heading our way," Mr Aitchison said.
"You've got the power to monitor things and enforce the rules but you've failed to do that."
Mrs Aitchison said she was "sorry we have to come here and get a little bit emotional about it but the council is not doing its part to enforce the rules."
"The Easter Bunny Hunt must be an embarrassment to the council that such large numbers have been revealed," she said.
The couple were concerned that spiralling rabbit numbers would result in poisoning being needed to control the pests. Use of that control method on a neighbouring property could affect their organic operation and the use of 1080 poison "tarnished" New Zealand's reputation overseas.
If rabbit numbers were kept under control there would be no need for poisoning, which threatened sales to overseas markets the Aitchisons had built up over 30 years, they said.
"Numbers [of rabbits] have got away to such an extent that we feel betrayed," Mr Aitchison said.
Chairman of the hearing panel Cr David Shepherd said he would raise the Aitchisons' concerns with council staff.
Mr Aitchison said he was not against the use of 1080 but believed it should be followed up with a control programme. Council chairman Cr Stephen Woodhead agreed landowners should be responsible for following up poisoning operations.
The panel will hear from more submitters today in Dunedin.