Zippy and energy-efficient two-wheelers leave the cars and nose-to-tail congestion in their wake.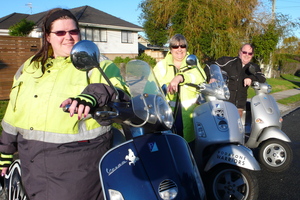 Yep, that was one of us, threading through the traffic waiting at the lights. That's another at the front of the queue, ready to zip away the instant the light turns green.
Our power-to-weight ratio is such that all but the most macho jerk in his turbo-charged status symbol will be left in our buzzing wake, and we can ride in clear air.
Perhaps you grumble at our impudence (though if you're honest about it you'd have to admit to a trace of envy). The bile spat at me by the former Labour Cabinet minister in the large BMW is not, I think, widely felt.
As transport planners grapple with solutions to the congestion that strangles our roads; as motorists sit in nose-to-tail traffic glumly contemplating the alternative solutions, all expensive, being proposed; scooter riders are already at work - or home again. We pay nothing for parking (in designated zones and almost all car parks) and we use bus lanes and transit lanes, trying our hardest (honest) not to look smug as we pass. And we do not fear congestion charges.
Registration figures show that moped numbers have actually slumped 15 per cent in the past five years, though motorcycles, which include all the scooters over 50cc, are back up to the 2008 peak. And the riders are discovering that virtue really can be its own reward.
If you leave the car at home and clamber on to the bus, you sacrifice convenience and probably end up spending the same or more on a journey that takes as long or longer.
You do it because you hope that one day you'll contribute to the critical mass that tips the scales in favour of public transport and makes it the default transport option in this car-mad town. Scooter riders, by contrast, get instant payback. We create a public good by taking a car off the roads at rush hour, and simultaneously benefit from a private one, because we move freely in gridlock: in the apocalyptic snarl-up of March 7, I crossed town as quickly as I always do to an appointment (though the other party never showed up).
The Andrews family of New Lynn knows this: three of the four of them are fulltime riders - and the other has several motorcycles "but they're all off the road at the moment".
Peter Andrews, who emigrated with his wife Jenny, daughter Rebecca and son Ben from Leeds in the 1990s, has never had a car - or a car licence, for that matter. Coming from a country where public transport is embedded in the culture, he had no need for it.
Settled in Auckland, he has owned several scooters - all Italian - though his latest, a two-stroke Gilera, was being repaired when I visited. Jenny and Rebecca, however, did their bit to sustain the family image: both have 250cc Vespas, which they ride to work each day.
"It costs $15 a week in petrol to go from home to Auckland Hospital, five days a week," says Jenny. "And I can park in the covered car park for nothing because they leave room for bikes to drive round the barrier. For cars to park there it costs $50 a week."
It's much the same story for Rebecca, who travels daily from Kingsland to the North Shore.
"Even if it's windy and rainy, I'd rather take the 20 minutes on my scooter across the bridge than the hour and a half on a train and a bus - and there's no guarantee they'll turn up on time."
Peter, who works in Ellerslie, would need to spend 90 minutes on two trains at a cost of $15 a day - "I can ride a bike for a whole week for that" - and if he had a car he would be "on the motorway stuck in traffic".
"It would still take me an hour and a half to get to work; I can do it on a bike in 20 minutes."
Modern wet-weather gear laughs at Auckland's rain - "You get very wet getting out of a car and putting up an umbrella," says Rebecca.
There's a proselytising element to all this endorsement, of course. The Andrews, like me, dream of an Auckland in which scooters are the rule rather than the exception. Each change of lights would be a buzz of acceleration as dozens moved off. Car drivers would follow, slowly.
• Peter Calder has ridden a Vespa ET4 in Auckland traffic for nine years.