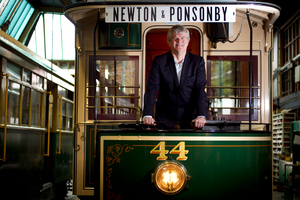 The Museum of Transport and Technology is embarking on a major transformation under a new broom which includes changes to admission fees.
New Motat director Michael Frawley yesterday disclosed - while outlining his vision for the museum beyond its 50th birthday next year - a restructuring of fees involving increases for adults and families but free admission for pensioners.
But that is coincidental to many changes likely to be proposed in a strategic plan, towards which Motat will start consulting Aucklanders today and which its more than 60 staff and 250 volunteers will get to vote for in July.
Although children under 5 will still get in free and the price for students will remain unchanged at $8, the adult charge will rise $2 to $16 and family passes by $5 to $40 from July 1.
But Mr Frawley, 51, insists admission tickets will still deliver good value, including unlimited use of Motat's tram to get between its main site and its new $18.5 million aviation display hall.
He hoped the new plan would make the museum more relevant to a wider range of Aucklanders - including Polynesians and teenagers.
He also hoped to hook up with technology innovators, possibly including firms such as Apple, to offer them opportunities to promote their products in return for sponsorship and educational information "so the people who come here are learning something but enjoying it while they are doing it, without having to put on fancy rides and things that have no connection to what the museum's about".
"We don't want to end up like Rainbow's End but nor do we want to be a static, boring institution that nobody wants to visit."
Although he was born in Tauranga and graduated from Otago University's law school, the new director spent more than 20 years in Britain where he headed a multinational merger which created Europe's 17th largest legal firm with more than 1300 employees.
He and his wife returned to New Zealand in 2010, considering it a better place to bring up their young children, but after three years renovating a lodge on a South Canterbury farm, he saw the Motat posting as a dream job where he could put his corporate restructuring background to good effect while indulging his interests in photography, cars and aircraft - part of the museum's life-blood.
Mr Frawley said that although he had gathered from sessions with many staff and volunteers that the museum had "lost its way a little bit", and needed a new strategic plan, his intention was not to dictate a blueprint over their heads or those of Auckland ratepayers.
"I have seen every imaginable approach, scorched earth, the lot, but my approach is to go in and talk to people to find out literally what they like and don't like," he said.
"I am not into taking the high road, because they won't buy into it."
That means commissioning a market research firm to spend the next two or three weeks from today surveying Aucklanders about what they think about the museum, and how it could be made more attractive to them, before putting a draft strategy to Motat's founding society and its board and then a team of non-management advisers.
Finally, it will be voted on by staff and volunteers.
He shook his head when asked if his new job would be a cakewalk compared with previous corporate challenges, noting he was inheriting "some historical issues" between the museum's volunteers and management which was his job to try to sort out.
But he believed a good start would be to try to blur the distinction between volunteers and staff, and treating them as "all part of the Motat team - they are here for the common good".
To give Motat your ideas
http://motat.surveyanalytics.com