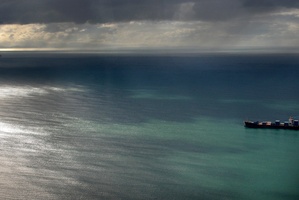 A cargo ship has been ordered to cease operations at the Port of Tauranga after a fishing vessel was struck off East Cape.
Maritime New Zealand launched an investigation after the fishing vessel The Commission was struck by a larger vessel about 3am yesterday.
Its crew was uninjured but the vessel remains stranded off East Cape after losing power in the collision.
MNZ spokesman Steve Rendle said the vessel still had auxilliary power, so it was able to operate its bilge pumps and radio while it awaited a tow back to port.
He said the crew had been unable to identify the larger vessel which collided with it.
However, automatic identification system (AIS) tracking data had established the cargo ship Samjin had been in the area at the time.
The Marshall Islands-registered cargo vessel was ordered to cease operations after it berthed at the Port of Tauranga this morning.
It would remain at the port while MNZ conducted an investigation and interviewed its captain and crew.
Mr Rendle said it was yet to be established whether the Samjin was involved in the collision.
"We're not making any assumptions because there were a number of vessels out there, including large fishing boats which wouldn't be using AIS."
Mr Rendle said he did not know when the Samjin was due to depart the port or when the investigation would be complete.
"We've ordered it to cease operations - that includes unloading and loading, and bunkering fuel - so there won't be any activity until our inquiries are complete."
The Samjin was understood to have been sailing to Tauranga from Port Chalmers, near Dunedin, at the time of the collision.
A fishing vessel has been dispatched from Tauranga to tow The Commission back to port. They are due to berth tomorrow morning.
- APNZ