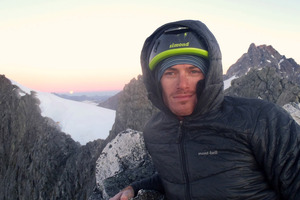 A Queenstown climber and the injured companion he rescued after a terrifying fall on a Himalayan mountain are hoping to head home this week.
Ben Dare, 29, has been hailed as a hero after he lowered his injured climbing companion Scott Scheele, 24, more than 200m down the slopes of Anidesha Chuli.
The pair were part of a group of four New Zealand-based climbers who were attempting to reach the peak of the 6800m mountain for the first time.
They were about a day away from reaching the summit when Mr Scheele fell about 90m and injured his head on May 4.
Speaking from Kathmandu, where Mr Scheele is still recovering in hospital, Mr Dare told Radio New Zealand they were hoping to fly out of Nepal tomorrow and arrive in Christchurch on Thursday.
Mr Dare said he had visited the hospital every day since they were plucked from the mountain by helicopter last Monday.
He said Mr Scheele had made "massive improvements" since then.
"He's coming forward in leaps and bounds. Obviously with any head injury - in particular, with the nature of the one he received - the full recovery process is not just going to be a matter if days. It's weeks or even months as he fully regains his awareness and consciousness."
The two other members of their group - Rob Frost, 30, and Andre van Dusschoten, 37 - were about to start their trek out of the Himalayas shortly.
Mr Dare recounted the details of their terrifying ordeal.
He said Mr Scheele was about 45m above him when he likely tripped and fell, triggering a small avalanche.
When the snow cleared, he saw Mr Scheele dangling from his rope, upside-down, about 45m below him.
Mr Scheele was unconscious for three to four minutes, but he then started to move and make noise - to Mr Dare's immense relief.
Mr Dare said he then did what he had to do.
"I just secured the ropes, made sure that he was safe in his current position and then made my way down to him."
He checked Mr Scheele for injuries and was relieved to find that, other than the head injury, there were only minor cuts and bruises to his body.
The next step was to get Mr Scheele somewhere they could be rescued from.
"Where we were, there was not much point in calling for help - it would have been very difficult or nigh on impossible even to get a helicopter in there, due to how steep the terrain was."
Mr Dare began lowering Mr Scheele back down the mountain, one rope length at a time.
With daylight failing, and having made it 200m down the slope, they camped out for the night.
The next morning, Mr Dare continued to lower his companion down to their previous camp, where they called the other two climbers on radio and activated an emergency beacon.
The other men, climbing through the night, reached the pair about 3am.
"It was a great relief when Rob and Andre arrived - they had the satellite phone with them and it just allowed us to get much clearer lines of communication out."
A helicopter arrived to rescue Mr Dare and his injured companion about 10.30am last Monday.
Mr Dare said they had got "relatively close" to the summit, but they were still at least a day away.
"There are no immediate plans to head back, but I definitely wouldn't rule it out. Hard to leave a job unfinished, but we'll see. There's a lot of time for future activities."
- APNZ