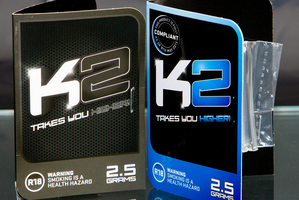 A 21-year-old Masterton man who terrified his mother and threatened police with a Japanese samurai-style sword told presiding Judge Tom Broadmore yesterday in the Masterton District Court that K2 synthetic cannabis "twisted my mind".
Reon Douglas Smith pleaded guilty to two charges including possession of an offensive weapon and wilful damage relating to an incident that occurred last Tuesday.
During a three-hour standoff with police, Smith, armed with a two-handed sword with a one-metre blade, locked the door to keep out police, while he remained inside with his terrified mother.
He frequently swung his sword in an aggressive and agitated manner, hitting walls and a door while taunting police.
Defence lawyer Frank Minehan asked Judge Broadmore if a psychiatric report could be compiled on his client: "There isn't an issue with the plea but his mental health was affected during the offending."
Smith said he was ashamed of his behaviour on the night and that the K2 Thai High substance he had smoked adversely affected him.
"It twisted my mind," he said. "It's the first time and the last I'll ever touch that crap."
Smith, in custody since the night of the incident, said he deeply regretted taking synthetic cannabis. "I didn't want to harm my mother. I couldn't even wish her a happy Mother's Day."
A police report stated that Smith had been drinking heavily during the evening and steadily became more aggressive and agitated to the point that his mother feared for her safety and called police.
When officers arrived at the house, Smith had locked himself inside and was brandishing the sword.
Police tried to speak to Smith but he threatened to attack them and cut them with the weapon if they attempted to enter.
His verbal threats were backed up by repeated swings, lunges and strikes of his sword in the direction of police, with the blade frequently hitting walls and a door.
Despite regular police pleas to open the door, Smith remained inside, extremely agitated, alternately wandering about the house and rushing at the windows striking with the sword as officers tried to communicate with him.
The 21-year-old, who had previously appeared before the court, continued to act in such a manner for about three hours. During that time, Smith rushed into the kitchen area and punched a window, shattering it.
He continued to act in a highly aggressive manner before abruptly opening the kitchen door, allowing police to enter.
Smith was then arrested and officers subsequently located the sword inside a bedroom wardrobe.
Judge Broadmore said that if those who made money out of the so-called legal-high products could see the damage being done, they might reconsider stocking them.
"People who sell that stuff should spend a bit of time in court listening to this stuff," the judge said.
He convicted Smith on the two charges and requested a psychiatric report and a pre-sentence report.
The judge indicated that if he was satisfied with the reports he would be willing to consider a community-detention sentence with supervision.
Alcohol and drug-counselling would also be available to Smith, as well as a mental-health assessment.
Judge Broadmore adjourned the case until June 24 for sentencing.
Last Thursday, two substances found in K2, synthetic cannabis BB-22 and 5F-AKB48, were banned. It is now illegal to import, manufacture, sell or supply the substances. The maximum penalty for breaching the new legislation is eight years in jail.
The Psychoactive Substances Bill, which puts the onus on manufacturers to prove their products are safe, is expected to become law in August.
For more articles from this region, go to Wairarapa Times-Age